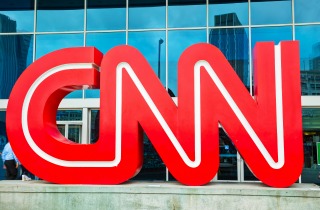 The death of the family room television is a topic often broached in the media world. And we see the stunning reports almost on cue on a monthly basis around record numbers cutting the cord on cable and satellite altogether. In fact, just in the last quarter alone, SNL Kagan reports that pay-TV services saw their biggest quarterly drop in history, with 625,000 customers opting out alone.
That's not to say cable and satellite business still isn't pretty good these days, as 100.4 million U.S. households still pay for traditional television. But the trend has been enough to get the attention of Wall Street, as fears ushered a massive sell-off in media stocks last week before the 21st-Century version of Black Monday hit today. How big? Major entertainment companies lost more than $60 billion in value over two days alone as a result. Once-indestructible giants like Time Warner Inc., Walt Disney (ESPN) and Viacom took the biggest blows, as their models are most directly tied to subscriber fees and advertising.
So why are people and especially millennials jumping ship? Simple: cost. It's not even close, either: Basic Pay-TV packages run on average about $90 per month. Netflix, Amazon, Hulu, etc are priced out at about $10.00/month. It's not a fair fight, as consumers wake up to the fact that bundled packages that include channels not desired in the first place is a BS business model. Before (as in even five years ago), there were no quality options. Streaming was unreliable, slow, not very mobile. Now it's growing by the day…and at a price that can save a household/apartment anywhere real money month-to-month and year-to-year.
Given that table-setting, the next obvious question is: Which cable news outlet has future-proofed itself for the long-haul as more opt for absorbing content on their phones and tablets instead of their televisions? The answer is CNN.com and especially CNNPolitics.com. Per a press release today:
For the fifth month running, CNN Politics' breaking news coverage, enterprise analysis and digital videos outperformed other political news outlets by double and triple digits. The network also saw all-time records in both mobile traffic and desktop video starts based on records dating back to February 2013 and August 2012.

In the month of July 2015:

CNN Politics: #1 Multiplatform Unique Visitors (Desktop + Mobile)

CNN Politics extended its lead within the Politics category, outpacing second place Fox News Politics by more than 5mm unique multiplatform visitors.

CNN Politics: 18mm unique visitors
•Fox News Politics – 13mm unique visitors
•Politico.com – 11mm unique visitors
•Yahoo! Politics – 10mm unique visitors
•ThePoliticalInsider.com – 10mm unique visitors
•HuffPost Politics – 10mm unique visitors
(Sources: comScore Multi-Platform, July 2015. Based on News/Information – Politics Category.)
But where the number really stands out is on the multi-platform front, as CNNPolitics.com more than doubled the number of views by its competition with 136 million in July compared to Politico.com (57 million), Newsmax.com (55 million; Disclosure: I co-host a panel program "The Daily Wrap" weeknights at 6:00p EDT on Newsmax TV which also streams live), Fox News Politics (53 million), *Huff Po Politics (50 million) and MSNBC (49 million).
*One note on HuffPo: In a column last week, I stated it was the most popular political publication on the web, using Alexa's rankings of the most-visited political sites on the web as a guide. But upon further review, it appears Alexa is counting all of HuffingtonPost.com's traffic and not breaking down the numbers into individual sections (political, entertainment, business, technology, etc). The author regrets the error.
"We believe the market is now valuing domestic TV businesses similar to such comps as satellite TV, publishing, and even AOL," explains Todd Juenger, an analyst at Bernstein Research, who downgraded prominent media stocks last week. "All of these comps have declining subscriber fees and/or advertising displacement. Some have hopeful digital futures, but futures which look very different (and less sizable and profitable) than the analog past."
Overall, CNN has beaten (like a drum) its competition on the digital front for five straight months. The margins range in double and triple digits. And the numbers will explode even more when the network hosts the second GOP debate on September 13th (which given the fact Donald Trump's popularity is only growing if this latest Reuters poll and growing crowd rallies are any indication, will likely equal or exceed the record-breaking 24 million viewers Fox News drew in August…at least that's the bet here).
Cable news is a day-to-day, hour-to-hour business. Some would say it's even quarter-to-quarter, segment-to-segment. Long-term planning can be a challenge as a result. But CNN obviously took the time to look ahead to see the big iceberg looking to sink traditional TV. The numbers show it's already ahead of the game.
Question is…will the competition wake up in time to start making the digital war a fair fight?
— —
>> Follow Joe Concha on Twitter @JoeConchaTV
Have a tip we should know? tips@mediaite.com