Don Lemon Segment Goes Off the Rails with Really Enthusiastic Trump Supporters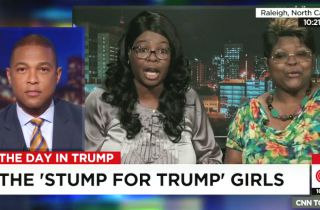 Don Lemon spoke tonight with the online viral sensations, the "Stump-for-Trump Girls", about how they became such big super-fans of Donald Trump. The went on to talk about how they "felt it" about Trump the moment they saw him on TV, and that he is, without a doubt, the only way to "make America great again." It was something to behold.
"We have a border that needs to be secure. We have ISIS trying to cut off heads. We have people going into movie theaters shooting it up, Don. We've got to secure this border," said Lynette "Diamond" Hardaway. "We have to make America great again. and the only way that we can do that is with Donald Trump."
The girls became sensational with their video series where they go on extended, off-the-rails rants about subjects like Megyn Kelly's grilling of Trump and Hillary Clinton's email scandal. However, most of their videos are centered around praising Trump's message (unless this is some kind of big Jimmy Kimmel joke or something). Lemon admitted that he watched all of their videos on WeBeSisters.com, and agreed with them that there is no one more enthusiastic than them about Trump except for Trump.
When Lemon asked them about Trump's views on race relations and the speech he gave in Michigan today, Hardaway and Rochelle "Silk" Richardson kept going full throttle for Trump.
"We don't want people to just be surviving in this country, but we want them to start thriving in this country," Hardaway said about Trump's capacity as a job creator. She went on to say that Trump is speaking the unspeakable truths of America no one else dares to, and that's why he resonates with voters.
Watch the segment below, via CNN:
And you can watch on of the girls' videos here:
[image via screengrab]
Have a tip we should know? tips@mediaite.com