CNN Showdown Over The Future Of The GOP: 'Bright And Exciting' Or A 'Wildlife Game Preserve For Intolerance?'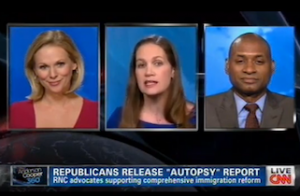 CNN's Anderson Cooper assembled a panel of guests Monday night to review the Republican National Committee's just-released "autopsy report" following the party's major losses in 2012. Republican consultant Margaret Hoover, Independent Women's Forum's Gayle Trotter and liberal CNN contributor Charles Blow joined Cooper to discuss the future of the GOP.
After watching a clip from RNC chair Reince Priebus' interview earlier in the afternoon with Wolf Blitzer, Hoover said she was "heartened" to see Priebus embracing some level of "tolerance" on social issues within the party.
Trotter, who made a name for herself earlier this year by delivering a fiery pro-gun rights testimony to Congress, laid out an even more sunny vision. "The future of the Republican Party is bright and exciting," she said, citing Sen. Rand Paul's filibuster on drones and the fact that sequestration didn't produce the disaster President Obama predicted as examples.
"I fully submit I must live in a different world," Blow said. "because I don't see where it looks bright for the Republican Party at this point." He continued to call the RNC report a "joke" and label the GOP a "wildlife game preserve for intolerance, for anti-intellectualism and for obstruction."
That last comment led to an overlapping shouting match between Blow and Trotter, who clearly see the GOP in two very different ways. For her part, Hoover sided with Trotter, saying that at least the Republican Party is headed in the right direction and asking, "don't we deserve credit for evolving?"
Watch video below, via CNN:
—
>> Follow Matt Wilstein (@TheMattWilstein) on Twitter
Have a tip we should know? tips@mediaite.com