Christopher: CNN Shows an Obamacare Success Story and a 'Failure' Who Will Pay Less for Insurance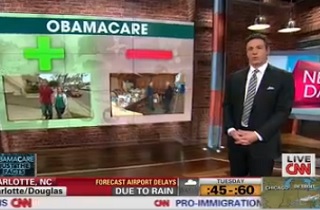 In the too little, too late department, CNN has finally decided that their job is no longer to "counter" President Obama's health care message with deliberately one-sided and suppressed reporting, and has now decided to show "both sides" (that's not really their job, either, but it is an improvement).
To that end, New Day anchor Chris Cuomo showcased two Obamacare stories Tuesday morning: a success story about an uninsured couple, and a "failure" story of a man who will pay less for health insurance under Obamacare.
Cuomo introduced his report by pointing out that "The affordable care rollout has been terrible, but what is the reality of the law? Are there successes with Obamacare, or is it just about failure?"
CNN's Miguel Marquez then told the success story of Kate Leeper and Justin Leeper, a married couple who are uninsured now, but will be getting health insurance Jan. 1 thanks to Obamacare. The report glosses over it, but when Kate Leeper describes the old application process, she's also describing one of the Obamacare benefits that affects everyone. She says it was "not just paperwork, but trying to remember every doctor's visit you've had for the last year, and every procedure or major issue you've had for the last ten years."
That's important, because before Obamacare, if the insurance company could trip you up a little during the application process, they could then use that later to cancel your plan retroactively if you ever got really sick, or just pregnant.'
Kate's husband also has a preexisting condition that kept insurers from covering him at all, which is no longer an issue under Obamacare. On top of that, they're paying a third less than Kate had been paying when she last had insurance.
Next up was CNN's Casey Wian, with the "other" side of Obamacare, 62 year-old Tom Harris, a "self-employed handy man who had high hopes for Obamacare."
Harris is actually going to be paying $5 a month less under Obamacare, but he's not happy. "Harris suffers from debilitating allergies," Wian reports. "He's seeing a specialist, Dr. Robert Eitches at the prestigious Cedars Sinai Medical Center in Los Angeles."
"I know if i go see him, it's completely out of network, and it does not apply against my deductible," Harris says. "It's really out of network. It's almost in another orbit."
Wians interviews Dr. Eitches, who says "I've had many patients say do whatever you can do, because I don't know if I'll be able to see you after December 31st," later adding that "what I may think about is not taking any insurance at all. I have a lot of patients who have been seeing me for over 20 years, and we have a bond. It would be sad to lose those patients."
Hear that, CNN viewer? Dr. Eitches has a sad, because what control does he have over which insurance he takes? Aside from "complete control," that is. You can leverage demand for your services to make the maximum amount of money possible, or you can wax melancholy about your "bond" with your patients. You can't do both.
Wians points out that Eitches has already stopped taking Medicare, and adds that Dr. Eitches "says 10% of his patients must find new doctors, or pay steep out-of-pocket costs."
As far as it goes, though, Wians' reporting appears to be accurate, a refreshing change in Obamascare media coverage. The report does fall somewhat short in examining Harris' claim that his care will be "really out of network," and won't apply to his deductible. Without knowing the exact plan he's getting, it's tough to test that claim, but here are a few facts about Dr. Wians' insurance status (which is the same as it was before Obamacare took effect). He participates in exactly four PPO networks, none of which are included in the exchange plans available to Harris, but he is a "contracted provider" with 15 insurance companies' PPO networks.
This gets a little bit complicated, but usually, a contracted provider has agreed to accept a (typically higher) negotiated non-par provider amount as payment in full, and many insurance plans will process the claim under out-of-network benefits, but still apply the amounts for a contracted provider to the patient's deductible. That's the incentive for customers to choose a contracted provider over one that doesn't take insurance at all. Additionally, a contracted provider can be authorized for in-network payment if the patient's doctor can demonstrate the medical necessity for continuing to see that doctor, or even after the fact via the appeals process. If all of this is too much for Harris' doctors to handle, there are also a lot of allergists in Los Angeles.
But even given all of that, this pair of stories does illustrate, to some degree, the very real tradeoffs involved in Obamacare. The protections in the law benefit everyone, but some people might have to make a choice like changing doctors (although that's not necessarily the case here), and some doctors might decide they no longer want the patients they've "bonded" with. Where CNN still falls short (though much better than before) is in presenting these stories as equal counterweights. As the President, and others, have pointed out, most people in this country have insurance that isn't affected at all by Obamacare, other than increased patient protections that are extremely popular.
There are 47 million non-elderly uninsured people like the Leepers who  can benefit from the law, plus 71% of people in the individual insurance market who will qualify for subsidies under Obamacare. Only .6 % of Americans will be shopping the individual market without subsidies because they make too much money, and many of them will still pay less, or about the same, due to increased competition. All of them will benefit from the law's new protections.
That's a lot of context to get into a four-minute hit, but it only takes a few seconds to say that Obamacare stands to benefit many times more people than not.
Cuomo concludes that "We're going to hear stories like these on both sides as the law continues to take effect, and so we will continue to monitor the impact, and tell you the problems and benefits as they come up. That's our job."
No, but it's a start.
Here's the clip, from New Day:
Have a tip we should know? [email protected]