CNN Shows Hustle, Vision in Scoring Ratings Gold with Two More Political Town Halls This Week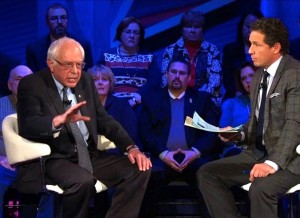 As a media columnist, one witnesses more than a few head-scratching programming and talent decisions in the world of cable news. Such decisions are easy to mock even before stepping into the role of Monday morning quarterback reviewing the destruction in retrospect.
But once in awhile, one can also tip a hat to an idea that is the perfect mix of quality content and ratings gold. To that end, CNN gets major kudos today after its announcement that it will hold two GOP town halls from South Carolina on Wednesday and Thursday leading up to a pivotal primary in the Palmetto State on Saturday.
The coup comes on the heels of CNN scoring an exclusive simulcast on PBS' Democratic debate on Thursday after approaching PBS just earlier in the month. It was a win-win for both networks, as CNN got 4.1 million viewers on a night it wouldn't have broken one million in any hour, and PBS got to showcase its anchors to a much larger audience, along with the fee (undisclosed) CNN paid to carry the broadcast, which helped PBS break even on production costs, according to the Washington Post.
CNN has also held several town halls recently — ones that seemingly were created from scratch in a short period of time — that have performed exceptionally well while controlling the news cycle for a day or two via soundbites from said event. The President's town hall on guns in January scored an impressive 845,000 viewers among adults age 25-54 during its broadcast from 8:00-9:15 PM EST. Fox (an hour of Bill O'Reilly and 15 minutes of Megyn Kelly) still won in total viewers, but CNN easily took the all-important demo race at a time it almost never does.
Again, this is smart scheduling, and it only happens when you have a network that is willing to be both nimble and bold. Note: CNN had to convince Mr. Obama it was a good idea to hold a town hall with tensions high on the subject, put together a panel that was evenly for and against more gun control, and have a moderator that wouldn't come across as biased toward either side (Anderson Cooper). They pulled it off to mostly-critical praise.
Seeing its success here, the network then arranged (again relatively quickly) a Democratic town hall featuring Hillary Clinton and Bernie Sanders before both the Iowa and New Hampshire contests. Again, the network saw a need (the DNC's dumb decision to reduce the number of debates from 27 in 2008 to six this time in an obvious effort to protect Hillary) and created an event that hadn't existed even two weeks prior. It wasn't a true debate, of course (Clinton and Sanders answered questions separately), but it made for compelling TV. On cue, CNN scored nearly the same numbers in the demo (944k and 871k, respectively) and won the nights in the demo going away again.
Fox and MSNBC have also shown an ability to be spry in this regard, albeit to a lesser extent. Fox Business landed a second GOP debate for the network in January that hadn't been on the RNC's original schedule announced last year. And MSNBC's Rachel Maddow hosted a town hall in Flint, Michigan (American Disaster: The Crisis in Flint) in late January after the dire situation with the city's contaminated water supply grabbed national attention. CNN (February 25) and MSNBC (this past February 11) also added a Republican and Democratic debate, respectively, to their schedules. Given the relatively enormous ratings compared to regular programming, debates this campaign season are easily the best thing to happen to any cable news network.
By holding two more town halls this week, CNN creates something for nothing and will likely win both nights on the ratings front in the demo. If the trend is any indication, look for Fox and MSNBC to go in this direction as well.
We're in the midst of one of the most bizarre, exciting, unpredictable election seasons we may ever see. Audiences––regardless of party preference or ideology––can't get enough of it. All the cable news networks greatly benefited in 2015 and will do explode even more this year leading up to the general election.
But instead of being reactive, proactive is the new business model. Better get used to seeing many more town halls… because as we're seeing, this may be a whole new brand of political reality TV.
We see our share of ill-advised decisions in the world of cable news. Creating compelling town halls starring the likes of Trump, Cruz, Hillary and Bernie isn't one of them: It's simple supply and demand.
— —
Follow Joe Concha on Twitter @JoeConchaTV
This is an opinion piece. The views expressed in this article are those of just the author.