CNN Sunday: Healthcare.gov 'Not Smooth Sailing Yet,' Monday: 'Does Run Smoothly For Me'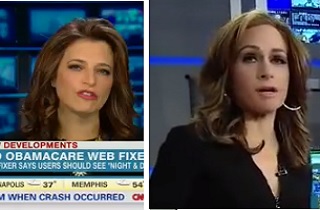 This past weekend saw the passing of the Obama administration's deadline for Healthcare.gov, the web portal for Obamacare, to work smoothly for the "vast majority" of users. On CNN's New Day Monday morning, health correspondent Elizabeth Cohen reported on her own observations of the website's performance, which she said ran "smoothly" for her, one day after CNN's Alison Kozik concluded, of the site, "not smooth sailing yet." Cohen's largely positive report did get one key fact wrong.
Cohen began her report with a recap of her previous frustrating experiences with the site, and the Obama administration's now-culminated efforts to improve the site. "What a difference two months have made," she said. "The administration's progress report says the site can now handle up to 800,000 visits a day."
That last bit is not actually true. According to the progress report, the site can now handle "more than 800,000 consumer visits a day," not "up to" 800,000. During Sunday's conference call, HHS explained that the 800,000 figure was based on data from the peak 8-hour period for the site, which means that the other 16 hours of the day are gravy. 800,000 is the floor, not the ceiling.
Cohen added that "Logging in now, the website does run smoothly for me. I was able to go through all the steps of signing up and comparing plans."
She then threw to tape of producer Matt Sloane trying out the site on Sunday, and also describing a largely smooth experience, save one error message that went away when he refreshed the page. For some reason, though, at the conclusion of Sunday's report, reporter Alison Kosik summed up by saying "Bottom line: not smooth sailing just yet."
The Kozik/Sloane report was featured by a Republican rapid-response Youtube channel.
It seems that one day, and a single error message, also make a significant difference.
Here's the clip of Cohen's report, from CNN's New Day:
Have a tip we should know? [email protected]