CNN Tackles Question of the Year: 'Is Bill Clinton Sexist, or Does He Simply Like Women?'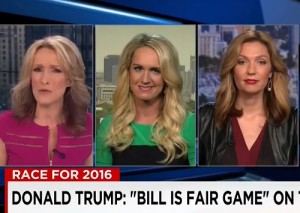 CNN correspondent Deborah Feyerick just asked the network's best question of 2015.
Sitting on a panel with three other women to discuss Republican presidential candidate Donald Trump's recent attacks against former president Bill Clinton as a means of denigrating Democratic rival Hillary Clinton, Feyerick posed a simple either/or scenario.
"Please set the record straight," she began. "Is Bill Clinton sexist, or does he simply like women?"
If you're giggling after reading that, don't worry. Panel members Scottie Nell Hughes, Amanda Carpenter and Hilary Rosen chuckled uncomfortably at the question, too. However, Feyerick wasn't done asking her question just yet.
"He had some many high-powered women in his cabinet," she continued. "So is he sexist? Is that a fair [criticism]?"
Most of the answers had to do with Bill Clinton's track record as president, which Feyerick used to compare Hillary to Trump in a followup question. That's when Hughes chimed in, noting that the two candidate's records with feminism (or lack thereof) were completely different topics.
"Let's define what sexism really is. It means the lack of respect. Therefore I believe that Bill Clinton very much is sexist, because he had a lack of respect not for one woman, but for several women," she argued. "Hillary Clinton continued to let them see this pattern of abuse. Whether you want to call it infidelity, it was a lack of respect for the women he continued to use."
"Sexism is defined as discrimination, chauvinism… discrimination based on a person's gender," noted Feyerick.
Meanwhile, Rosen pointed out that Hughes' comments regarding Hillary Clinton's female staff members received 87 cents for every dollar her male staffers earned was "simply not true."
QUESTION OF THE YEAR.
Check out the clip above, via CNN.
[Image via screengrab]
— —
>> Follow Andrew Husband (@AndrewHusband) on Twitter
Have a tip we should know? tips@mediaite.com