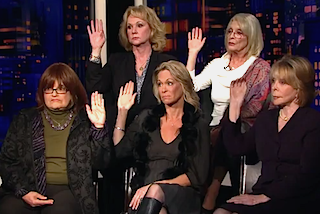 The last time Don Lemon interviewed one of the many women who have accused Bill Cosby of rape, it didn't turned out so well.
But undeterred by that debacle, CNN decided to gather five of Cosby's accusers together for a special tonight set to air at 9 p.m. At least this time they gave Lemon Alisyn Camerota as a co-host so he wouldn't be all alone out there.
In the few clips released ahead of tonight's big event, Lemon and Camerota ask the women as a group to raise their hands if they agree with certain statements. For the most part, they are a united front in their opposition to the comedian, whose reputation has been destroyed but has never faced any criminal charges for the alleged assaults.
"How many of you were drugged?" Camerota asked at one point, adding "allegedly" (though when you're asking the accusers directly that caveat seems somehow superfluous). All five women raised their hands. When she asked how many remember being drugged, only three answer affirmatively.
Watch video below, via CNN:
In another clip, Camerota asked, "How many of you, show of hands, have tried to get money out of Bill Cosby?" When no hands went up, she asked, "How many of you would ever take money from Bill Cosby?" Again, no hands.
"He gave me twenty bucks" for a cab, one Cosby's first accusers, Joan Tarshis offered up.
Watch video below, via CNN:
Finally, the CNN hosts asked the women what they want to see happen to Cosby now. With the statute of limitation up on his alleged crimes, they had some other ideas, such as taking his Emmy Awards away.
Watch video below, via CNN:
You can watch the full interview with the five women tonight at 9 p.m. on CNN.
[Photo via screengrab]
— —
>> Follow Matt Wilstein (@TheMattWilstein) on Twitter
Have a tip we should know? tips@mediaite.com