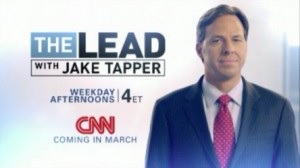 The long wait will soon be over. Since the announcement, earlier this year, that ABC News White House Über-Correspondent Jake Tapper was making the move to CNN, throngs of "Jakers," as Tapper fans don't call themselves (but will now) have anticipated the arrival of Tapper's new programming home. On Wednesday, CNN announced that The Lead with Jake Tapper will debut on Monday, March 18 at 4 pm, and will somehow incorporate Tapper's prolific Twitter feed. From CNN's press release:
The newest addition to CNN's weekday afternoon line-up, The Lead with Jake Tapper, will premiere at 4 p.m. ET on Monday, March 18. Anchored by chief Washington correspondent Jake Tapper, the one-hour program will draw not only on Tapper's deep knowledge of politics and national issues, but also seek to examine and advance stories across a wide range of topics that demonstrate his own curiosities and interests. Compelling headlines will come from around the country and the globe, from politics to money, sports to popular culture, based on news drivers of the day.

Tapper's prolific tweeting will extend to his program, which will aggregate and incorporate trends and response from social media into the reporting of stories that are part of the national consciousness. Users should follow @jaketapper and @theleadcnn. Original digital content including exclusive video and blog posts will appear on CNN.com/thelead beginning March 18.

Federico Quadrani is the executive producer of The Lead with Jake Tapper, as announced last month.
Since joining CNN, Tapper has provided coverage of events like the State of the Union speech, and anchored a documentary about a U.S. soldier in Afghanistan, but The Lead will be CNN's first chance to test the ratings power of their big acquisition. For Tapper, the challenge will be to translate his brand of reporting into a one-hour studio format. If his guest-hosting stints on ABC's This Week are any indication, that should be a piece of cake.
After tweeting the announcement this morning, Tapper told his Twitter followers, "As always, am interested in stories that YOU think are important that we should cover as well as fresh takes on stories already in the news," an indication that his famously extensive engagement with Twitter users will figure heavily in the content of the show.
Have a tip we should know? [email protected]