CNN Top Exec Defends Crowley: Republicans Just Upset About Performance Of 'Their Man'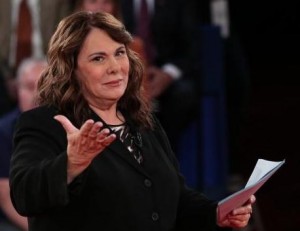 In a memo obtained by TMZ, CNN Managing Editor Mark Whitaker has taken to defending CNN anchor Candy Crowley's performance as the moderator of the second presidential debate by attacking her critics. Whitaker said "Romney supporters" are just upset that "their man," GOP nominee Mitt Romney, had a less decisive debate performance than he did in Denver.

RELATED: Candy Crowley's Debate Moderation Exemplifies Why Americans Do Not Trust Their Media
Crowley's critics primarily objected to the State of the Nation anchor defending President Barack Obama during Tuesday's debate when she said that the president had declared the 9/11/12 attack in Libya an act of terror the day after the event. Crowley later explained this statement, saying that Romney's claim that the president had refused to label the attack in Libya a terror event until two weeks after the fact was not entirely inaccurate.
Whitaker claimed in an email that Crowley's critics were predominantly Romney supporters looking to shift blame for his less stellar debate performance from "their man" to Crowley:
"Let's start with a big round of applause for Candy Crowley for a superb job under the most difficult circumstances imaginable. She and her team had to select and sequence questions in a matter of hours, and then she had to deal with the tricky format, the nervous questioners, the aggressive debaters, all while shutting out the pre-debate attempts to spin and intimidate her. She pulled it off masterfully.

The reviews on Candy's performance have been overwhelmingly positive but Romney supporters are going after her on two points, no doubt because their man did not have as good a night as he had in Denver. On the legitimacy of Candy fact-checking Romney on Obama's Rose Garden statement, it should be stressed that she was just stating a point of fact: Obama did talk about an act (or acts) of terror, no matter what you think he meant by that at the time. On why Obama got more time to speak, it should be noted that Candy and her commission producers tried to keep it even but that Obama went on longer largely because he speaks more slowly. We're going to do a word count to see whether, as in Denver, Romney actually got more words in even if he talked for a shorter period of time."
h/t TMZ
> >Follow Noah Rothman (@Noah_C_Rothman) on Twitter
Have a tip we should know? tips@mediaite.com