CNN Uses Clip From Undercover Brother On Report About TSA Agents Checking Woman's Afro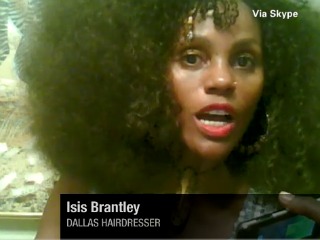 TSA agents in Atlanta recently stopped Dallas hairdresser Isis Brantley at the airport specifically to check her hair for explosives. I was going to make a joke about her hairstyle being "the bomb," but, you know what? I won't subject you all to that. …Oops.
In any case, Brantley, who has styled the likes of singer Erykah Badu (who also happens to have some pretty impressive hair of her own), was taken aback by the officers' request to check her hair — especially since she says she had already gone through the security check when they called her to return. The TSA, meanwhile, maintains that Brantley left the checkpoint prior to completion of her security check, and that she refused to their offer to screen her privately.
Ok, fine. My question, now, is this: Was it really necessary for CNN to use a clip from, of all things, Undercover Brother — a film satirizing 70s Blaxploitation films — to highlight the fact that people don't like strangers touching their hair? Afros and "natural hair" have had a long and complicated history in the U.S., adding a potential extra layer of significance to the officials' decision to specifically search Brantley's hair. (Am I saying these TSA officials are definitely racist for searching her hair? No. Not at all. I'm saying the situation becomes problematic in light of the politicization of black hairstyles in the United States.) To diminish that by using a cartoonish portrayal of a black person with a full afro to highlight a point is, at best, highly unprofessional. And, in case you'd missed the punchline the first time, the report then uses a clip from Naked Gun 33 1/3 to illustrate the fact that, sometimes? Afros can be really big!
So. Is the point here to fairly report a particular woman's story, or to make fun of her hairstyle?
And in case you hadn't had your fill of gawking at such a strange and exotic hairstyle by this point, the report ends with footage of the woman who currently holds the Guinness World Record for biggest hair disco dancing and tending to her hairstyle. This has what, exactly, to do with Brantley's story?
Check out CNN's report on the incident, below. And, as always, let me know what you think:
Have a tip we should know? tips@mediaite.com