CNN vs. Ted Nugent, Day 3: CNN Wonders Why It's Covering 'Not Relevant' Rocker
Rothman: CNN vs. Ted Nugent, Day 3: CNN Wonders Why It's Covering 'Not Relevant' Rocker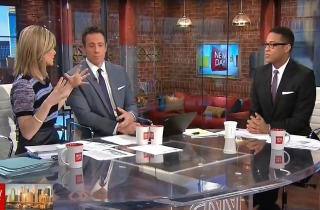 CNN's ongoing feud with rocker Ted Nugent continued into its third day on Thursday as the anchors of New Day took on controversial comments made by Nugent earlier in the week while campaigning with the GOP's gubernatorial hopeful in Texas, Greg Abbott.
The feud began after a CNN anchor and Nugent accused each other of harboring Nazi sympathies following Nugent's use of the phrase "subhuman mongrel" to describe President Barack Obama.
Then, on Wednesday afternoon, CNN anchor Wolf Blitzer and Chief Political Analyst Gloria Borger analyzed Nugent's use of the phrase "blood brother" to describe his relationship with Abbott. They agreed that this infraction demanded that Abbott take responsibility for appearing on stage with the controversial rock star and even possibly apologize. They declined, however, to elaborate on what was especially offensive about the use of this phrase.
The network recently sent CNN reporter Ed Lavandera to Texas where he confronted Abbott about his relationship with Nugent. Lavandera was unable to get a formal response from the candidate or the campaign about the controversy they sparked, but the report provided New Day's anchors with the opportunity to opine on the situation.
"This is why I get so wound up about this," host Kate Bolduan opined. "We get to pick what we put in a newscast."
RELATED: NY Times Buries The Lede: Anderson Cooper's Ratings Surge At 8PM
"When the guy isn't relevant – Ted Nugent I don't think impacts anyone's life beyond whoever wants to listen to him," she continued. "He can say whatever he wants. Thank goodness for the First Amendment. Doesn't mean we have to listen to him."
"He's not relevant. We shouldn't be giving him a louder megaphone," Bouldan declared.
She then let out a heavy sigh and continued to rail against what she indicated was Nugent's ubiquity in politics, appearing at what she regarded as inappropriate venues like the State of the Union Address.
"We cover Ted Nugent because he's a spectacle and he's not necessarily newsworthy all the time," anchor Don Lemon said with some introspection.
In spite of this self-awareness, the feud between Nugent and CNN is unlikely to deescalate in the near-term.
Watch the clip below via CNN:
[Photo via screen grab ]
— —
> >Follow Noah Rothman (@NoahCRothman) on Twitter
Have a tip we should know? tips@mediaite.com