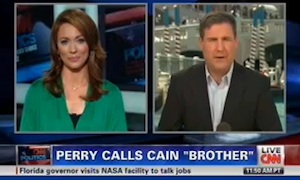 On CNN's Newsroom this afternoon, anchor Brooke Baldwin observed that at last night's GOP debate, Rick Perry kept referring to fellow candidate Herman Cain as "brother." "Did you notice that while you were watching?" Baldwin asked her audience, replaying Perry's comments.
PERRY: "Herman, I love you, brother, but let me tell you something, you don't need to have a big analysis to figure this thing out…At the end of the week, I'm going to be laying out a plan that clearly — I'll bump plans with you, brother, and we'll see who has the best idea about how you get this country working again."
"I counted two there. Seriously! Let me know," Baldwin exclaimed. "And here is what a Perry spokesperson said, 'He is a friendly fellow. He uses that kind of language. And he views all those folks on stage as colleagues, as fellow Republicans and he speaks accordingly.'"
Baldwin questioned CNN political correspondent Mark Preston over Perry's use of the term.
"As I was watching last night, I definitely made note of that," Baldwin said. "And I'm sure you did as well."
"Sure, it's certainly something the Perry campaign does not want to be talking about right now," responded Preston. "They want to talk about what they think was a very strong performance for the Texas Governor. We have to be very careful not to characterize what he was saying. They are saying that he meant nothing by that and in fact he's not racist and what have you. It would be interesting to see what happens if Herman Cain is asked that question and if Herman Cain decides that he doesn't have a problem with it, then I do think the issue is dead, Brooke."
Baldwin wasn't alone in pointing out Perry's curious terminology. Last night, PBS's Gwen Ifill also found Perry's term of endearment for the former Godfather Pizza CEO to be odd, tweeting: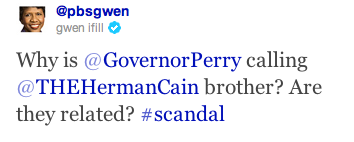 Watch Baldwin question Perry's use of 'brother' below, via CNN:

Have a tip we should know? tips@mediaite.com