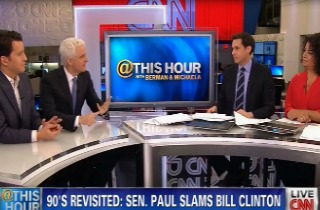 Following the publication of documents relating to how former Secretary of State Hillary Clinton comported herself politically in the Washington Free Beacon, a CNN panel took on those revelations and their possible political implications. The panel also took on Sen. Rand Paul's (R-KY) attacks on Bill Clinton's sexual exploits and the revelations contained in the documents relating to Clinton. Most of the members of the CNN panel concluded that Clinton is aided by how the media is portraying her.

Paul has recently attacked Democrats who campaign with or accept donations raised by Bill Clinton because of his past behavior which would not be tolerated by anyone else. CNN contributor Will Cain said that Paul is correct in asserting that it is hypocritical for a party that supports Bill Clinton to level "war on women" attacks on the GOP.
"This is coming from a man who took advantage of a girl in the workplace," Cain said of Clinton.
"Some would argue, it takes two to tango," Michaela Pereira said in Clinton's defense.
"Well, clearly," Newsday columnist Ellis Henican agreed. "There is a reason we do not have 'take your spouse to work day' in America.'"
RELATED: NY Times Buries the Lede: Anderson Cooper's Ratings Surge at 8PM
Moving on to the documents about Hillary Clinton portraying her as a "ruthless" operative, Cain said the revelations were important because this behavior could manifest itself in a potential Clinton presidency.
"If those terms were used to describe a man," Pereira countered, "People would say –- would likely say –- those are laudable qualities."
"If gender were flipped, it would be very different," Henican added. "The reason not to talk about, it is old, it's icky, and it's none of our business."
Watch the clip below, via CNN:
[Photo via screen grab]
— —
> >Follow Noah Rothman (@NoahCRothman) on Twitter
Have a tip we should know? tips@mediaite.com