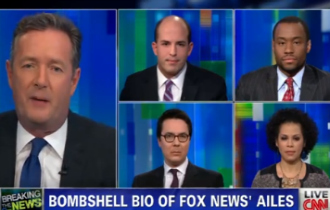 Piers Morgan's CNN media panel seemed to agree Wednesday night: Gabriel Sherman's book about Roger Ailes likely won't change anyone's mind about Fox News.
"People who are skeptical of Fox News are going to read this book and are going to be sure, once and for all, that Fox News is an arm of the Republican Party," CNN media critic noted. However, he said, "If you're a Fox fan or a fan of Roger Ailes, you're not going to believe a word of it anyway."
"You can be totally against everything Fox stands for while appreciating that [Roger Ailes] is some kind of genius," Morgan added.
Sherman's book, The Loudest Voice in the Room, is scheduled for release on Jan. 14, and has already been roundly dismissed by Ailes and Fox News, who've repeatedly noted that the author and his publisher, Random House, only requested interviews; but no one ever submitted any items to be fact-checked by the network.
When CNN contributor Ryan Lizza stated that there will likely be a "concerted effort" by Fox to discredit Sherman and the book, Marc Lamont Hill disagreed that "I don't think there's a certain moral expectation about TV executives, and certainly not about Fox News."
"The people who like Fox News don't like it because they think Roger Ailes is a good guy," Hill continued. "It's because they tell the story that they want to hear. I think that people who hate Fox News will just have more ammunition to hate Fox News. I don't think you'll see any large shift in how the public views Fox."
TheBlaze TV host Amy Holmes agreed, adding that she believes the book is filled with "pretty thin gruel."
Watch below, via CNN:

[h/t RealClearPolitics]
— —
>> Follow Andrew Kirell (@AndrewKirell) on Twitter
Have a tip we should know? tips@mediaite.com