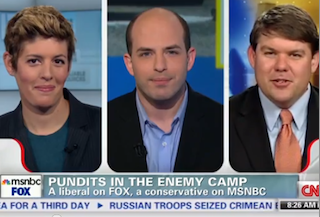 Last week, the Columbia Journalism Review released a study that found Fox News gives more airtime to liberal voices than MSNBC does to conservatives. So on Sunday, Reliable Sources' Brian Stelter invited two CNN contributors who know something about being the odd voice out in a cable news debate to discuss the difference between the two partisan networks.
On the left was Sally Kohn, who until recently served as a frequent liberal foil for Bill O'Reilly, Sean Hannity and others on Fox. On the right was Ben Ferguson, who has refused to appear on MSNBC as a conservative "punching bag," as he described it.
"It wasn't worth it," Ferguson said of appearing on MSNBC. "It wasn't even close to a fair fight." He joked that it wasn't worth the process of putting on make-up and getting his hair done for television just to "be their punching bag for a half hour."
As a liberal on Fox, Kohn described her experience in a far more gracious way. While it could feel "absurd" at time, like the time she was the one leftist voice against 15 conservatives during a Hannity town hall, but overall she thought it was important for her to there as an opposition voice. "If my goal of being on television is to change people's hearts and minds," she said, she wants to reach Fox's "tremendously large" audience.
Like the Columbia Journalism Review piece, Ferguson accused MSNBC of too often choosing to "destroy you with a soundbite" rather than have a real live conservative in the studio. But when they do have one there, he said, MSNBC hosts don't even want to hear what they have to say. "They just need you to fill that little box on the screen and you're the bad guy," he said.
"There's a difference between being respectful but disagreeing and just being totally mean-spirited," Ferguson said, alluding to former hosts like Martin Bashir. "And some of their hosts over there, they are flat-out mean-spirited to tea party member and conservatives." He said MSNBC hosts should not be surprised when those on the right refuse to appear on their air.
Pointing to Republicans who have been calling President Barack Obama "weak and feckless" on foreign policy, Kohn said, "to suggest that the mean language is only coming from the liberal side of the ledger is just absurd.
What do you think?
Watch video below, via CNN:
[photo via screengrab]
— —
>> Follow Matt Wilstein (@TheMattWilstein) on Twitter
Have a tip we should know? tips@mediaite.com