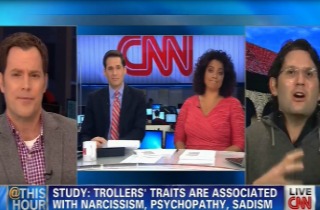 On Wednesday, a CNN panel dug into the results of a recent study which found that anonymous commenters who make intentionally provocative statements on the internet, commonly referred to as "trolls," can be "psychopathic" and "manipulative" people even outside the confines of the World Wide Web. But the CNN panel took this discussion a step further when they noted that this manner of discourse can psychologically damage those exposed to it and should possibly not be considered free speech.

"A new study, this is breaking news people, finds that trollers really are horrible people," anchor Michaela Pereira announced. Co-anchor John Berman revealed that a study of provocative internet commenters found they were "manipulative" and "sadistic."
The assembled CNN guests agreed with this study's conclusion, but the conversation took a turn toward public policy when one guest suggested that the effects of trolling on their intended subjects, and even those merely exposed that kind of behavior, can be irreparably damaged by it.
"There's sometimes an offered a defense of the so-called free speech of trolls, that even their free speech should be protected, and maybe at law it should be," said Michael Fertik, Reputation.com's CEO. "But, at the same time, we have to understand that their behavior actually chills the speech and censors the lifestyle and speech of other people."
RELATED: Jake Tapper and Guests Take on Conservative 'Trolls' Attacking Mandela
"Someone I know and someone my company has worked with suffered PTSD, because she was in a class with anonymous trollers who were attacking her personally for her for her body type, for the comment she made, for the clothing she wore," he continued. "This is not about protecting the speech of nasty people. It's about protecting the speech and life of everybody around them as well."
Watch the clip below via CNN:
[Photo via screen grab]
— —
> >Follow Noah Rothman (@NoahCRothman) on Twitter
Have a tip we should know? tips@mediaite.com