CNN's Ali Velshi Talks To Mediaite About GOP, The Fiscal Cliff, And How Reporters Should Deal With Politicians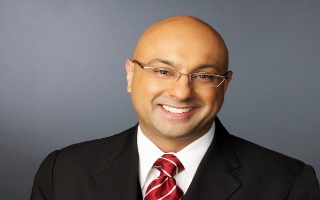 While CNN's reporter and anchor Ali Velshi is known for wearing many hats, his focus on global and financial issues usually prevents him from weighing in on the pressing political issue of the day. That was, at least, before the debate over the fiscal cliff drove him to make his opinions on the matter well known. Velshi took to his network on several recent occasions to blast lawmakers for their irresponsible actions which eventually led to a resolution to the self-imposed financial crisis only New Year's Day. Velshi recently spoke to Mediaite revealing his thoughts on lawmakers and their competency – neither of which he expressed a measurable level of esteem for. Velshi said that the United States stands at the precipice of an "economic renaissance," and would realize this new golden age if only America's lawmakers could get out of the way.

"It is really terrible, and it is the new normal," Velshi said when asked if Congress' dysfunctional handling of the fiscal cliff, and any big package legislation, has become the legislative branch's modus operandi.
"We really could have had a good plan," Velshi continued. He said that Congress has become so unmanageable as the result of two fairly recent developments; the high cost of campaigning for office and campaign finance laws which govern fundraising, and gerrymandering.
"There is no impetus for Congress to do the right thing," Velshi said. "They choose career and self-preservation over the good of the country, and that frustrates me to no end."
Velshi recalled when he served as a Congressional Fellow for Rep. Lee Hamilton (D-IN). He said that was a time not long ago when politicians in Washington actually had an incentive to work together. "Now, everybody is either in Congress being partisan or back in their districts being partisan," Velshi lamented. "There are fewer competitive districts in the country, so the idea that you are going to lose your seat to somebody from the other party is much less real than the idea that you're going to be challenged by somebody with extreme views from your own party. The motivation is to stand your ground as much as possible."
Velshi recently interviewed Rep. Tim Huelskamp (R-KS) where he took issue with a number of facts and figures the Congressman was relying on to support his position. The exchange clearly frustrated Velshi. He stopped the interview short to admonish Huelskamp for trying to pass erroneous information by CNN's audience.
When asked how often lawmakers try to slide misleading information by him in interviews, Velshi replied, "very, very regularly."
RELATED: Ali Velshi Tears Into GOP Congressman Over 'Misleading Statistic': 'You're On CNN Right Now'
"The shows that I do, we don't have a ton of lawmakers on because I'm exhausted by it," Velshi said. "I like to have real discussions and I can't have one if you have to stop every minute to say, 'that's not true.'"
"I think what happens is they get bullet points and don't have the wherewithal to understand them, so they just recite them," Velshi added. "Too many journalists don't challenge them. I live in this stuff. You can't pull this wool over my head."
As anchor of Your Money and World Business Today on CNN International, Velshi spends most of his time on air discussing developments in the business world – an activity which he admits provides him with more reason for optimism than observing politics in Washington.
"I travel around the world a lot, and see what countries are doing around the world to make them more competitive," said Velshi. He focuses on proposals like an American public-private infrastructure bank which would modernize America's transportation and electricity grids. "Big-think, positive, important conversations instead of wasted, small-think, political discussions," he added.
NEXT>>>>Continue to page 2 of the article here
Have a tip we should know? tips@mediaite.com