CNN's Ana Navarro's 'Pretty Sure' Trump Is 'Planning On Deporting' Her If He's Elected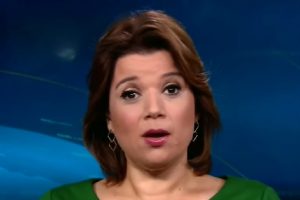 In an interview with The Hollywood Reporter, CNN political commentator and Republican strategist Ana Navarro opened up about her true feelings on the GOP presidential nominee.
Navarro has become something of a viral sensation in recent weeks for her sparring sessions with surrogates of Donald Trump, especially ones employed by her own network. She got into it with CNN colleague Scottie Nell Hughes after Trump's Access Hollywood tape went public when she wouldn't stop saying the word "pussy."
Speaking to THR, the Nicaraguan-born Navarro stated that she felt she'd be sent out of the country if Trump were to win next month.
"If Donald Trump wins I'm going to be looking for a place to seek exile," says Navarro. "I'm pretty sure he's planning on deporting me."
She also discussed her on-air fights with Trump supporters, noting that they all seem the same to her.
No. I really do not have a favorite amongst Trump surrogates. They all look the same to me. They really all sound eerily alike.
Navarro, who supported Jeb Bush during the GOP primary, pointed out that she hasn't taken all of the hate directed her way on social media too seriously.
I am strangely unaffected by it. All I can do right now is keep myself from falling off the hamster wheel before the election. I really haven't had time to think about what has happened. I've been saying the same things about Donald Trump for 18 months. Finally the rest of the folks caught up. I'm just being me.
Outside of supporting Bush this election, she worked for him when he was Florida Governor and also advised the presidential campaigns of John McCain and Jon Huntsman.
Watch video of her butting heads with Hughes above, via CNN.
[image via screengrab]
–
Follow Justin Baragona on Twitter: @justinbaragona
Have a tip we should know? tips@mediaite.com