CNN's Ashleigh Banfield Confronts 'Heartless' TX Lawmaker for Banning Immigrant Kids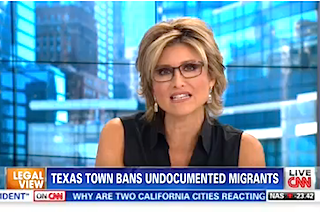 On Wednesday, CNN host Ashleigh Banfield took a brief pause from reporting the news on the situation along the border to offer up a defense of the undocumented children being housed there and the "devastating" circumstances they face. Once again on Thursday, that opinion seeped into a heated discussion she had with League City, Texas council member Heidi Thiess, who was behind a resolution that banned the housing of those children in her city.
Banfield began by questioning the legality of the law Thiess helped pass in her city in relation to federal law, but Thiess countered by saying she doesn't "believe that the federal government is following its own laws" when it comes to letting the immigrants stay in the country.
While Banfield said she could understand some of Thiess' concerns, she asked, "Do you see how those who are your critics say that is just heartless?" She added, "We've got kids being raped in overcrowded detention facilities. They need help. These are people who are desperate, and they need help. And, effectively, your critics say you're just turning your backs on them."
When Thiess tried to defend her position, Banfield compared the policies she's sponsoring to the protests that have been occurring at the border. "I know you've seen all those people who have come out to protest busses, where kids inside of busses have their faces pressed up to the glass, and they're seeing Americans who look like the land of the rabid!" she said. "And what I'm asking you is, a policy like this kind of smacks of that. Do you not see the difference between illegal immigrants who are here — maybe — to get a free ride, and those who are desperately seeking protection from murderers?"
Thiess responded by saying she is trying to uphold her oath to protect the citizens of her city. "Frankly, I don't want League City to become one more stop in a chain of human trafficking that is being exacerbated by our own federal government," she said.
But Banfield continued her humanitarian appeal. "The problem is there's so many, it's overcrowded," she said. "They're being raped, they're being beaten, and they need help! Some of them don't even have water. And in at least one case, 100 of them are sharing one toilet that doesn't even have a door. And that's why I'm asking you if you would really turn your backs if the federal government asked you to help?"
Watch video below, via CNN:
[h/t Raw Story]
[Photo via screengrab]
— —
>> Follow Matt Wilstein (@TheMattWilstein) on Twitter
Have a tip we should know? [email protected]