CNN's Ashleigh Banfield: Pedophilia, Incest Often 'Not By Choice,' But Being Gay Is 'A Lifestyle Choice'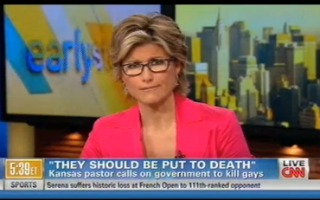 On Thursday morning, Early Start co-anchor Ashleigh Banfield felt compelled to weigh in on a story involving New Hope Baptist Church's Pastor Curtis Knapp, who made headlines for saying that gay individuals should be put to death.
After showing a clip of Knapp sharing his point of view and reading a select passage from Leviticus, Banfield appeared upset over the pastor's comparison of homosexuality with things like pedophilia and incest… but perhaps not for the reasons most often espoused:
RELATED: CNN's Ashleigh Banfield To Wolf Blitzer: 'I Think Donald Trump Has Jumped The Shark'
Pedophilia is not by choice, last I checked. In his sermon, Pastor Knapp blamed the Bush administration for its tolerance of gay people. Says that he claims that set the stage, in fact, for the Obama administration to endorse same-sex marriage.

Like I said: they can't make this stuff up. Unbelievable. Speechless, right? […]

Again, we gotta outline here, when he says "they punish incest and pedophilia"… Please. Those things are often not by choice and are crimes. Homosexuality is a lifestyle choice by people; it is voluntary.
UPDATE: According to CNN, Ashleigh Banfield will be addressing this tomorrow morning.
UPDATE #2:
Ashleigh Banfield responded via Twitter tonight:
Need 2 clarify. Incest and pedophelia are CRIMES & victims have no choice. Being gay is not. Relatnshps r by choice. Way of life not crime.

— Ashleigh Banfield (@CNNAshleigh) June 1, 2012
Being gay is not a choice. Being in consensual relationship is. I support LGBT people. I do not support pastor who says its a crime.

— Ashleigh Banfield (@CNNAshleigh) June 1, 2012
Have a look, via CNN:
h/t Joey Boots
Have a tip we should know? [email protected]