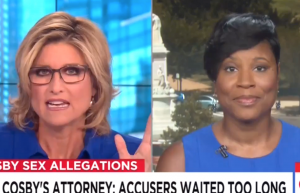 In a follow up to yesterday's appearance of Gloria Allred on Legal View, Ashleigh Banfield asked a couple of tough questions to attorney Monique Pressley regarding her defense of Bill Cosby as he faces an onslaught of rape allegations.
Banfield began the interview by asking whether Cosby has an real sort of defense to use, saying that though he has not yet been brought to court, it was unsettling that so many women have spoken against him with similar stories.
Pressley began by saying that Cosby has only faced non-case allegations so far, rather than any charges or convictions, which led the CNN host to grill her over the revelations that Cosby bought quaaludes and did not deny that he intended them to use them on women.
Banfield challenged Pressley on the deposition's record that Cosby used an objection in order to avoid denying the allegations and answering further questions. "If truth is your best friend, why not say no," she asked.
Banfield also went on to ask why Cosby was not countersuing any of his accusers for slander if he wishes to deny the charges. Pressley said that the defense team was keeping all options on the table, but despite presses from the host, she refused to say what approach they would be taking in the future.
When Pressley denied that the stories had any similarities, Banfield pushed back.
"They are horrifyingly similar. I'm sorry, I will argue that until I'm blue in the dress," she said. "You and I both know those similar stories, whether they were molested, allegedly molested or rapes or drugged they all have similar stories.
You can watch the segment here:
[image via CNN/screengrab]
— —
>> Follow Ken Meyer (@KenMeyer91) on Twitter
Have a tip we should know? [email protected]