Barbara Starr On Santorum's 'Emotions' Comments: 'This Country Could Not Go To War Without Its Military Women'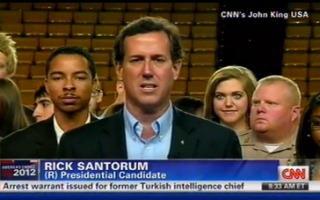 On Thursday, GOP presidential hopeful Rick Santorum told CNN's John King that he has "concerns about women in front line combat" because they can lead to "compromising situations" wherein emotions override accomplishing that which is in the best interest of the mission.
CNN Pentagon correspondent Barbara Starr offered her reaction to Kyra Phillips:
RELATED: 'Real Time' Panel Goes Nuts Trying To Convince Bill Maher Obama Is Anti-Military
I think perhaps Mr. Santorum will be explaining further what he exactly meant. In another interview, he sort of begins to reference the notion that he worries men in the military on the front lines will be too protective of women. Look, here is the factual bottom line for women in the U.S. military, Kyra. As you know, this country could not go to war without its military women volunteering to serve the nation. women have already been in combat. You know, more than 800 women wounded in the last decade, 140 have lost their lives.

This all came up because yesterday the Pentagon, of course, opened a number of new jobs to women closer to what is thought of as "traditional combat," even though in Afghanistan, for example, combat is everywhere you look. So he's talking about that. But being too protective? I've got to tell you, in all my years of covering the military, protection of your fellow soldier, worrying about your fellow soldier, I've never seen it be gender specific. Troops look out for each other. They look out for the soldier to the right, their soldier to the left. I've never seen it where it's been a case of worrying about the women too much.
One real issue faced by women in them military, Starr added, is not that they'll be coddled or protected, but that "women are much more likely to face sexual assault in the military right now than they are to face being shot, captured, or killed."
Have a look, via CNN:
Have a tip we should know? tips@mediaite.com