CNN's Bash Grills Cantor on his Defeat, Immigration: 'If You Can't Beat a Republican…'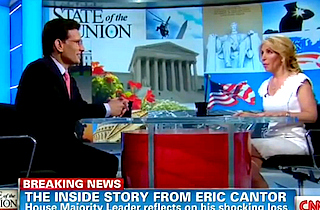 On State of the Union Sunday morning, CNN's Chief Congressional Correspondent Dana Bash pressed soon to be not-House Majority Leader Eric Cantor (R-VA) over his literally historic primary loss last Tuesday to an upstart tea party candidate. Cantor maintained that he was "looking forward," that his views on immigration had been consistent, and that his loss did not have to do with either his religion or meddling from Democratic candidates.

"We ran my campaign the same way that I'm trying to focus my work here in the debate in Washington, and that is focusing on people who have real problems," Cantor said.
Bash noted that Cantor had previously called for Republicans to "stop eating their own." "You got eaten," she said.
RELATED: Cantor Spent More at Steakhouses than Dave Brat Did on Whole Campaign
"I said that day that we as conservatives and as Republicans that we may have some differences," Cantor replied, "but they pale in comparison with the differences –"
"But the voters of your district didn't buy that," Bash said. "If you can't beat a Republican, what does it mean for the Republican Party going forward?"
"I am determined to continue the mission that our party needs to be one of inclusion, not exclusion," Cantor said. "There are so many more things that bind us together than tear us apart."
Cantor said he would vote for Dave Brat, the candidate who beat him.
Watch the clip below, via CNN:
[Image via screengrab]
——
>> Follow Evan McMurry (@evanmcmurry) on Twitter
Have a tip we should know? [email protected]