CNN's Bash Grills Sen. Graham: Was Benghazi Tweet Just 'Red Meat for Your Base?'
CNN Grills Sen. Graham: Was Benghazi Tweet Just 'Red Meat for Your Base?'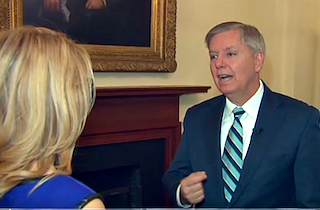 CNN's Dana Bash pressed Senator Lindsey Graham (R-SC) Thursday morning about his tweet alleging the current Ukraine crisis was on a continuum with the U.S.'s response to the 2012 Benghazi attack. Bash asked if it wasn't a "stretch" to link the attack in Libya to the Russia's invasion of the Crimean peninsula, and whether Graham was referencing Benghazi to play to his base during a contested primary for his seat.

"It's just not about the Ukraine, about our standing in the world," Graham said. "It's part of a narrative. I didn't say Putin ignored Obama because of Benghazi alone."
Bash asked if Graham's "rapid-fire mean tweeting at the President" calling Obama weak became a self-fulfilling prophecy. "Aren't you making him weaker in the eyes of Putin by someone like you, with your stature, calling him weak and indecisive?" she asked.
"During the Iraq War, did Senator Obama criticize Bush's policies?" Graham replied. "The point I'm trying to make is that there's been too many times in the last six months where the President has told people, 'if you don't do what I say, there'll be consequences,' and nothing's happened."
Bash grilled Graham as to whether the Benghazi reference was slipped in to catch the attention of his conservative base.
"Everything I've done has been about what I think is best for the country," Graham said. "I think it's best to find the truth about Benghazi. When my primary's over—and I'm going to win—I'm going to still be on Benghazi."
Watch the clip below, via CNN:
[h/t CNN]
[Image via screengrab]
——
>> Follow Evan McMurry (@evanmcmurry) on Twitter
Have a tip we should know? tips@mediaite.com