CNN's Bill Weir to Bundy: 'How Does It Feel to Be Abandoned by Your Friends on Fox?'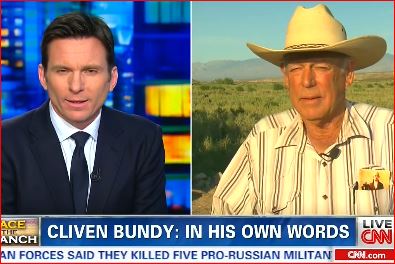 Now that some Fox News hosts have largely disowned Cliven Bundy, the Nevada rancher was free to appear on CNN Thursday night, facing a combative Bill Weir, who repeatedly grilled Bundy on his racist comments, his refusal to pay fees, and his strongly anti-government stance. Bundy insisted he didn't understand what the big deal was about his comments, saying he's just concerned about the life many black people are leading and so is "wondering" if they would be better off under slavery. Weir told Bundy he doesn't, then, understand exactly how brutal slavery was, if he doesn't understand how "deeply offensive" his comments were.
Weir even called Bundy out for hypocrisy, saying black people are "dangerously dependent" on government, but his cows are grazing on public land for free. Weir asked, "How are you not sort of a welfare queen in a cowboy hat?" Bundy shot back that he's providing meat for America, but Weir said plenty of other Nevada ranchers do the same, but they pay grazing fees so he's "mooching off of them."
RELATED: WATCH: Cliven Bundy Defends 'Negro' Comments in Incredibly Bizarre Press Conference
Weir then brought up Bundy's relationship with another cable news network.
"How does it feel to be abandoned by your friends on Fox? I mean, the only reason we could get you on tonight is that, I'm guessing, they didn't call."
Bundy said he's just been "misunderstood," and said Sean Hannity, despite condemning him earlier, "would support me if he really understood what was in my heart."
Weir brought up Bundy's militia supporters and asked him if he's "really willing to spill the blood of another America over where your cows eat." Bundy maintained that this has always been about "liberty and freedom" to him.
Watch the full segment below, via CNN:

[photo via screengrab]
— —
Follow Josh Feldman on Twitter: @feldmaniac
Have a tip we should know? tips@mediaite.com
Josh Feldman - Senior Editor