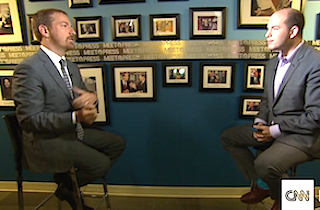 Ahead of Chuck Todd's first Sunday hosting Meet the Press, CNN's Brian Stelter sat down for an interview with the NBC political director that is set to air on this weekend's Reliable Sources. After the show's drop in ratings and the network's decision to drop host David Gregory, Stelter asked Todd straight out if he agrees with the perception that Meet the Press is "broken."
"No, I don't agree that it's broken," Todd answered. Instead, he said he thinks "political journalism is going through the same issues that Washington politicians are going through" in the sense that the public has "lumped" the media in with their "frustration" with Washington as a whole.
"I think that what's, quote-unquote 'broken' is us in the media channeling the frustrations of Americans," Todd continued. He said he likes to take his family on road trips "because you just learn a lot more about what's really happening in America."
RELATED: Chuck Todd Sums Up Obama's Legacy in Reddit AMA
"Look, we are in a bubble in Washington, we are in a bubble in New York, and so we've got to work harder at that," Todd said. "And when Meet the Press — and all political journalism — is at its best is when it's channeling the American frustration."
Despite his role as a host and reporter on MSNBC over the past several years, Todd has not hesitated to channel the American frustration with President Barack Obama. In June, Todd looked at an NBC/Wall Street Journal poll and concluded that "essentially the public is saying, 'Your presidency is over.'"
On Sunday, he will get the chance to conduct an in-depth interview with President Obama and will put his own challenge of channelling America's frustrations to the test.
Watch video below, via CNN:
[Photo via screengrab]
— —
>> Follow Matt Wilstein (@TheMattWilstein) on Twitter
Have a tip we should know? tips@mediaite.com