CNN's Brian Stelter Brings on Four Trump Supporters to Air Their Media Bias Grievances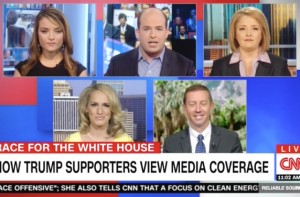 Being a Donald Trump supporter on cable news sure is an interesting job. And CNN's Brian Stelter brought four of them on Reliable Sources today to air their grievances about media bias.
Scottie Nell Hughes said that across the board, in print or on TV, you get majority anti-Trump views and very few pro-Trump views expressed.
Amy Kremer complained about how the media always plays up Trump controversies, but never treats any Clinton controversy on equal footing. Stelter suggested that maybe it's just because hers are "not as big."
Kremer said, "It's not the media's place to determine what's newsworthy and what's not." Stelter pointed out that's kind of the media's job.
Kristin Tate made perhaps the most important point of the entire segment: the media tends to pile on Trump more not just because of liberal bias, but because of entertainment bias. Trump's controversies are just crazier and more fun to gawk at as opposed to something esoteric like emails. She said, "Trump's sins are mostly rhetorical."
Stelter wondered if playing up the media bias argument is just "victimhood." Phillips pointed out that this very media bias that dismissed Trump for the beginning helped him win.
The second segment mostly focused on what it's like to be a Trump supporter on TV every day, even on the days when there's just too much for them to have to defend or justify. Stelter did say he doesn't care for the way Trump supporters are treated as an "exotic species."
Watch the first segment above, via CNN.
[image via screengrab]
— —
Follow Josh Feldman on Twitter: @feldmaniac
Have a tip we should know? tips@mediaite.com
Josh Feldman - Senior Editor