CNN's Brian Stelter: Justine Sacco's 'Trial by Social Media' 'Just as Bad' as Her Offensive Tweet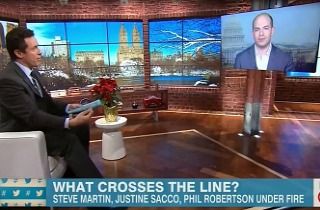 On Friday, a tweet described by many as offensive and inappropriate sent out by public relations professional Justine Sacco created a firestorm which resulted in her dismissal by her employer. Some, however, have said that the reaction to a tweet, initially sent out to just over 100 people, has been disproportionate and was stoked by media companies in order to generate clicks at the expense of the career of a relatively anonymous individual. CNN's Reliable Sources host Brian Stelter said on Monday that the "trial by social media" that Sacco faced was, in ways, worse than the initial offense.

"She was public relations professional," Stelter began. "If anyone should know better than to post a message like that, it should have been heard."
However, Stelter said that he often interacted with Sacco on the phone as a media reporter for the New York Times, and he never knew that her personal Twitter account "even exited."
RELATED: PR Exec Justine Sacco Fired for 'I'm White' AIDS in Africa Tweet
CNN New Day host Chris Cuomo observed that the reaction to Sacco's tweet was so vitriolic that even the company that fired her had to ask the public to tone down their reaction to it. Stelter agreed and said that the reaction which included her firing before Sacco's plane landed and she was even aware of the brewing controversy, was excessive.
"The reactions to her, some of the reactions to her, were as bad as her post," Stelter noted. "There were death threats seen on Twitter toward her, and she hadn't had a chance to tell her story yet."
"I kind of thought that the trial by social media was just as bad as her initial post," he concluded.
Cuomo and Stelter observed that two similar situations over the weekend in which a mob of angry twitter users unleash a stream of unearned criticisms and threats at people who were engaging in acts that could be considered darkly humorous is unnerving.
"There are hateful swamps wherever you go," Stelter observed. "I, for one, try to avoid those swamps. I think viewers at home probably should, too."
Cuomo worried that the "tone" is changing in public discourse and making it more acceptable for even public figures to adopt a rhetorical position that would otherwise have been unacceptable just a few years ago.
Watch the clip below via CNN:
[Photo via screen grab ]
— —
> >Follow Noah Rothman (@NoahCRothman) on Twitter
Have a tip we should know? tips@mediaite.com