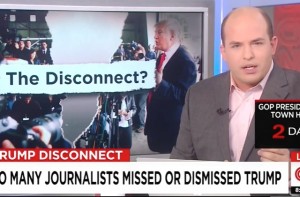 How exactly did the media get Donald Trump so wrong? Well, today, CNN's Brian Stelter devoted the entirety of Reliable Sources to answering that very question.
And what better way to illustrate the collective failure of the punditocracy than by showing clips of people on CNN the day of Trump's presidential announcement downplaying the likelihood that they'll become president, which is exactly what Stelter did.
Remember, over many months the talk shifted from "Oh, Trump's not gonna run" to "Oh, Trump's not seriously staying in" to "Oh, Trump's not gonna win the nomination" to, now, "Oh, crap, he's probably going to be the nominee."
Throughout the show, Stelter and various guests from different media outlets looked at how cable news, print, and online media all covered Trump and whether the very unfavorable coverage reflects a certain "snobbery" on the part of the press towards Trump's voters.
The Atlantic's Molly Ball argued that one of the problems is that the press spends too much time talking to politicians or consultants instead of the actual voters looking at Trump and judging him.
The Daily Beast's John Avlon, on the other hand, affirmed how proud he is of their Trump coverage because it falls in with their ethos of standing up to––as he put it––"bullies, bigots, and hypocrites."
Trump surrogate Scottie Nell Hughes said his appeal is mostly a policy-based one because he's tapped into people's serious frustrations about jobs and the economy.
You can watch the first part of Stelter's show above, via CNN.
[image via screengrab]
— —
Follow Josh Feldman on Twitter: @feldmaniac
Have a tip we should know? tips@mediaite.com
Josh Feldman - Senior Editor