CNN's Brianna Keilar 'Didn't Hear a More Open or Transparent Hillary Clinton' in Interview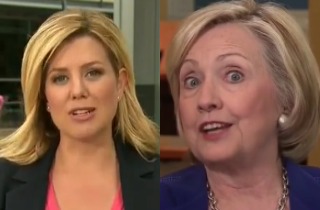 CNN's Brianna Keiler sat down with Hillary Clinton earlier today in what was Clinton's first televised interview since she became a 2016 presidential candidate. Keilar brought up issues ranging from Clinton's strained relationship with the press to her thoughts on whether Americans trust her, but in a later appearance on The Situation Room, Keilar said that Clinton's pushback did not make her seem more forthcoming.
"I didn't hear a more open or transparent Hillary Clinton," Keilar told Jim Sciutto. "I asked her why Bernie Sanders is garnering this support and enthusiasm you don't seem to among Democrats. She wouldn't engage on that."
Keilar went on to say that throughout the interview, Clinton either "wouldn't engage" on topics like the dynastic possibility of running against Jeb Bush, and that she was quick to move on from issues like her press relationship, the email scandal, or the dealings of the Clinton Foundation.
"She insists that voters should and do trust her, but at the same time we see in our recent poll that nearly 6 in 10 Americans say they don't find her honest or trustworthy," Keilar said. "Credibility is so key to leadership, and while she's really blaming Republicans on this, this is actually a recent development we have seen on the controversies plaguing her."
Keilar later conceded that it was true that some of the rules for the State Department were vague and outdated as far as the emails were concerned, but Clinton seemed to deflect any improper conduct during the interview by stressing that she did not break the law.
You can watch the segment here:
[h/t The Blaze]
[image via screengrab]
Have a tip we should know? tips@mediaite.com