CNN's Burnett Gets Rand Paul to Admit 'Maybe' Kentucky Represents an Obamacare Success Story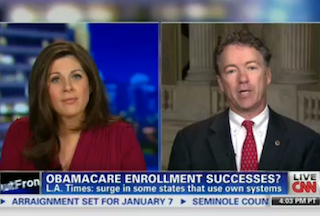 With a steady stream of bad news about the rollout of the Affordable Care Act hitting the airwaves on a daily basis, the state of Kentucky has represented a potential bright spot. A red state with a Democratic governor, Kentucky has stood out in its ability to sign up uninsured residents using the state-based exchange, managing to actually outpace its enrollment estimate.
On Tuesday evening, Kentucky Senator Rand Paul appeared on CNN's Out Front with Erin Burnett and reluctantly admitted that there may be some good news about Obamacare coming out of his home state.
Burnett said she decided to report the "good news" on Obamacare Tuesday night "because I know that you've heard the bad news." In her interview with Paul she highlighted a new report that shows 41% of Kentuckians who have signed up under the new law are under 35 years old, which is above the administration's threshold for success of 40%. "That's pretty impressive," she said. "Are you going to say Kentucky is a success story for Obamacare?"
Initially, Paul rejected the suggestion, focusing instead of the people in his state who have "had their insurance canceled" under Obamacare. "The number being canceled dwarfs the number actually signing up," he said. "So no, if that's a success, I hesitate to see a failure."
Burnett responded by saying that the new plans being offered to those people may very well be "better" than the ones that were canceled. "At least I have to get you on the record," she pressed. "If young people are signing up in Kentucky, and you're getting the math right there, that opens the door to Obamacare succeeding, right? I mean, you gotta acknowledge that."
"Maybe," Paul answered, going as far as he intended to go in agreeing with Burnett's premise. He then returned to his original argument about people's plans being canceled. When Burnett again suggested that many of those people will eventually sign up for new health care plans, Paul once again responded, "Maybe… They're being canceled because they have something less expensive and President Obama wants them to buy one of his four plans, which are more expensive."
Paul even admitted that "maybe" the new plans people will enroll in under the Affordable Care Act will have "better care" but reiterated that he believed they would be "more expensive" and "may not be" what people want.
Watch video below, via CNN:
[photo via screengrab]
— —
>> Follow Matt Wilstein (@TheMattWilstein) on Twitter
Have a tip we should know? [email protected]