CNN's Candy Crowley Asks Ron Paul How He Could Win General Election If He Can't Win A Single Primary State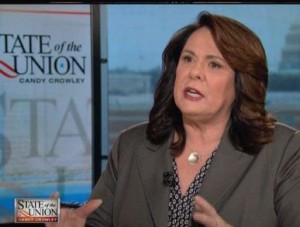 Before welcoming Congressman Ron Paul on State of the Union today, Candy Crowley took time to point out that Paul has not won a single contest in the Republican presidential race so far. In upcoming primary states, Paul is trailing his rivals in either third or fourth place. The closest Paul has come so far is a narrow margin of votes between him and Mitt Romney, and Crowley asked Paul how he expected to make a strong showing in the field if he is unable to win a single primary or caucus.
RELATED: After Second-Place Finish In Maine, Ron Paul Campaign Boasts Of 'Victory' In Press Release
Crowley said that it would be hard to see the Republicans successfully winning the general election with a candidate who did not come in first place in a single state during the primary process. Paul said he's made some significant gains in gathering delegates, even though he's in last place regarding delegate county, claiming his campaign may end up with the most delegates out of Iowa at the Republican National Convention.
Paul also admitted he's impressed by the kind of turnout he's seeing for campaign events. Crowley didn't deny that Paul has a massive and loyal following across the country, but did ask if he has a ceiling of support that he cannot seem to break free of. He concluded by saying that "nobody knows the future," and anything could happen in this incredibly volatile GOP race. And even if the math does not add up in his favor down in Tampa this fall, Paul intends to go to the convention either way.
Watch the video below, courtesy of CNN:
Have a tip we should know? tips@mediaite.com
Josh Feldman - Senior Editor