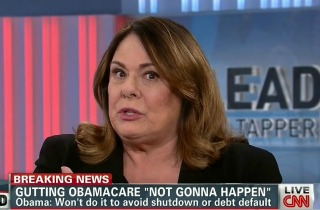 Following the broadcast of a portion of Mitt Romney's exclusive interview with CNN host Jake Tapper, CNN State of the Union anchor Candy Crowley and chief political analyst Gloria Borger were brought in offer their reactions. Crowley said that Romney's refusal to entirely embrace the tactics of Sen. Ted Cruz (R-TX) was to be expected because he has always been a Republican in the mold of Sen. John McCain (R-AZ) rather than a tea party conservative.

Tapper asked Crowley about a recent statement made by McCain in opposition to Cruz's tactics in which he said that the GOP campaigned against the ACA in 2012 and lost. Tapper suggested that Romney is still unable to come out strongly against the ACA because he embraced a health care reform measure when he was governor of Massachusetts that included an individual insurance mandate.
RELATED: Poll-I-Buster: Ted Cruz Snatches GOP Primary Lead From Rand Paul
"He still, as you can tell, he talks about little differences between the bills but there's no major philosophical difference," Tapper said.
"There isn't," Crowley agreed. "And it's not just on Romneycare. There were other issues that we watched that Governor Romney walked back on as he left the governorship and began to get into the race even early on."
"The fact is that Romney is a republican more along the McCain lines," she continued. "He still is not the Republican that tea party conservatives would like to see head the ticket because they say, 'No, we're going to use what we can now to stop this thing.' That's still who he is."
Watch the clip below via CNN:
[Photo via screen grab ]
— —
> >Follow Noah Rothman (@NoahCRothman) on Twitter
Have a tip we should know? tips@mediaite.com