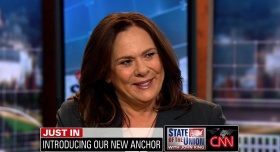 Veteran CNN correspondent Candy Crowley was named the 2nd anchor ever of Sunday morning show State of the Union today, replacing John King. She'll also be the only female Sunday show anchor – and one of the few ever.
Mediaite spoke to Crowley this afternoon about the new job, who she'd like her first guest to be and more.
Mediaite: You said this morning (video on next page) that you and John King view journalism very much the same. But how do you plan on making your mark on the program, making it your own?
Crowley: I do think it's going to be organic and we're doing it on the fly, obviously because I'm going to be in the seat next Sunday. I think that our interview styles are different. I'm more of a laid-back sort of interviewer. It's different live on TV, I will say that, there's sometimes not enough time to make people comfortable. But I'm more casual in some ways. Journalist go after news, what's important. I don't know how I would make that my own, but management made it really clear they don't want Candy to do John's show, they want Candy to do Candy's show. So we'll see. Hopefully it will include some writing, some journalism I did during the week. Because I will be keeping my day job.
Mediaite: When it was announced John King would be moving to the 7pmET show, there were several stories that had a short-list of names including you, Ed Henry and Gloria Borger from within CNN, and others from outside. And from talking to people in the industry, I'd say you were the fan favorite. How does it make you feel that there were people pulling for you?
Crowley: The best. That's the best part of it. I honestly told somebody I saw before I found out, they told me, 'I want you to know I called management, I want you so much to get this job.' And I said the best part is if I don't get it I swear to you I will take to the end the number of people inside CNN who walked in my office, shut the door and said I'm rooting for you. You cant buy that kind of stuff. Ultimately I was gratified before I got the job, so you can imagine where I am now.
Mediaite: You've been with CNN since 1987. How does this rank with some of the other assignments you've had with the network?
Crowley: I guess when I first started covering politics full-time, which happened shortly after the first Gulf War, in '91, that was great. My heart is in politics and I love that. I love reporting and I've always loved reporting. This gives me a chance to have a longer format. There were times I wished I had more than 30-second soundbites, wished I could ask this question. I think for me, career-wise, this is the height of the things that have happened, although all were certainly the height at the time.
>>>NEXT PAGE: Crowley on joining the small list of female Sunday show anchors.
Have a tip we should know? tips@mediaite.com