CNN's Carol Costello Battles GOP Rep.: 'Are You Suggesting Obama's a Traitor?!'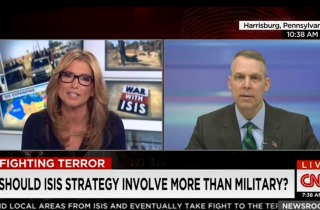 Things got a little intense Wednesday morning when CNN anchor Carol Costello confronted a Republican congressman for having suggested that President Barack Obama works "collaboratively" with Islamic State forces abroad.
Rep. Scott Perry (R-PA), a member of the House Foreign Affairs Committee, said at a roundtable discussion that the president is "really working collaboratively with what I would say is the enemy of freedom and individual freedom and liberty and Western civilization and modernity."
"Are you suggesting the president's a traitor?" CNN's Costello asked of Perry during his appearance via satellite. His response:
Absolutely not. What we're talking about is his sending our terrorist prisoners that are located in Guantanamo to places like Yemen when you know that the government is unstable and literally fell within months later. When you talk about al Qaeda being on the run and being ineffective anymore when we see this global march of radical Islam going around the globe, really, in Europe, North Africa, at an unprecedented speed. That's what we're talking about — where the rhetoric the president engages actually kind of incites some of this stuff, and enables it, encourages it.
Trying to understand the lawmaker's rationale, Costello asked, "So you're saying by these actions, in an indirect way, the president is collaborating with the enemy?" Perry replied that the president has simply disregarded "what most Americans see" as a radical Islamist threat.
It didn't end there, of course. The pair also fought over whether Perry has an actual strategy for dealing with ISIS outside of claiming the president doesn't have one.
Watch the full segment below, via CNN:
— —
Have a tip we should know? tips@mediaite.com