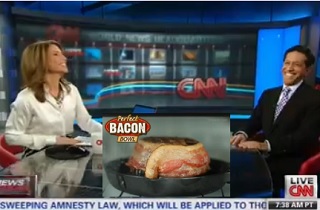 CNN's advertising sales department has officially blown my mind with its placement of a two-minute ad for something called the "Perfect Bacon Bowl," a device which allows you to mold bacon into a crispy piece of dinnerware, which you can then fill with a variety of foodstuffs. The commercial plays like a Saturday Night Live ad parody, but it is deadly serious, and despite my liberal inclination to mock it, I'm overcome with the same reaction that CNN's Carol Costello had: "I want my own bacon bowl!"
There's really only one problem with the ad, and that's that it is a massive oversell. You don't need two minutes to sell a bacon bowl, you need two seconds. Here goes: Bacon. Bowl. You also don't need to call it the "Perfect Bacon Bowl," because a bacon bowl is obviously perfect in every way. Finally, you really don't need to tout the healthy egg-white and turkey sausage you can out in the bacon bowl. That's like bragging about the awesome blanks you can shoot with your new AR-15.
Obviously, you want to moderate your intake of Ranch dip-containing bacon bowls (which are really more like bacon ramekins, if we're being honest), but Carol Costello and Dr. Sanjay Gupta summed up the product's appeal several minutes later when Dr. Gupta was teasing a show about healthy cooking for the holidays.
"You weren't for the bacon bowl we just advertised?" Costello asked.
"That got you pretty excited," an amused Dr. Gupta replied.
"I want my own bacon bowl!" Costello growled. So do we all, which, if nothing else, adds extra urgency to the rollout of Obamacare. Methinks a new star is born for #GetCovered. Throw a few grease stains on those feetie pajamas and put that hot chocolate in a bacon bowl, and you've got a winner.
Here's the ad, followed by Costello's reaction, from CNN:
Have a tip we should know? tips@mediaite.com