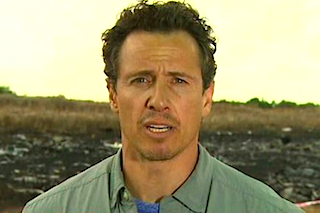 How does CNN's Chris Cuomo feel about being Jon Stewart's "Moment of Zen" this week for his unfortunate "shoot down" pun while reporting like from Ukraine this week? According to a new interview with Washington Post's Erik Wemple, the anchor isn't thrilled.
"I made a mistake," Cuomo admitted. "In terms of who reacted to it and how, it's strictly a case of consider the source." In a possible dig at Mediaite, he added that bloggers "are what they are — they traffic in snark and negativity."
"If it seems like I'm being disrespectful of Jon Stewart, it's only because I am," Cuomo later clarified to Wemple. "He's funny but he doesn't do the job we do and he shouldn't pretend he does."
The "Moment of Zen" was hardly Stewart's harshest criticism of Cuomo since he started hosting New Day last summer. In November, he took aim at the show's sponsored "couchable moments," which Stewart called "so gloriously, cravenly unnecessary that I think that I love it."
While most targets of Stewart's scorn tend to brush the criticism their shoulders off and move forward, Cuomo appears to be one who can't dismiss it so easily. Even John McCain, who recently accused Stewart of getting things "absolutely wrong," said he has "no beef with late night comedians who make fun of politicians. That's the nature of the business." When it comes to The Daily Show, working for CNN also makes you a frequent target.
Watch the "Moment of Zen" video below, via Comedy Central:
[Photo via screengrab]
— —
>> Follow Matt Wilstein (@TheMattWilstein) on Twitter
Have a tip we should know? tips@mediaite.com