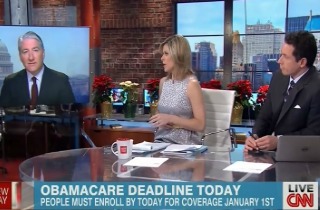 President Barack Obama's days-old Christmas vacation in Hawaii will not be the jolliest if CNN has anything to say about it. On Monday, CNN/ORC released new polling data showing that the Affordable Care Act has reached a record low approval rating in that survey. The anchors of CNN's New Day added salt to that wound in a segment about those poll numbers on Monday by debating the politics of a delay of the individual mandate.

A new survey found that 62 percent of those surveyed told pollsters they did not approve of the ACA while just 35 percent expressed approval. The breakdown of the subgroups who told pollsters they disapprove of the ACA is even more troubling for the White House.
RELATED: Log Cabin Republicans Bash Obamacare Ad for 'Gay Stereotypes,' Liberal Hypocrisy
In November, 63 percent of men and 54 percent of women disapproved of the ACA. Today, 64 percent of men and 60 percent of women disapprove. "That's up six points in just a month," said CNN Chief National Correspondent John King. "That's the president's base. Those are the people who make a lot of the health care decisions, the financial decisions for American families."
New Day anchors Kate Bolduan and Chris Cuomo followed this report with a debate over the merits of a delay of the ACA's individual mandate to purchase insurance. "Is there any course for a solution here?" Cuomo asked.
King replied that the administration has done virtually everything they can to assuage the concerns of Democrats in the Senate who are concerned about the political fallout from the ACA roll-out beyond a mandate delay. Cuomo noted that a delay of the mandate could end up worsening the problems affecting the high costs currently associated with the ACA. "The administration's case is, you do that, you essentially say 'Bye bye Obamacare,'" King said.
Watch the clip below via CNN:
[Photo via screen grab ]
— —
> >Follow Noah Rothman (@NoahCRothman) on Twitter
Have a tip we should know? tips@mediaite.com