CNN's Costello Goes After Drudge And Limbaugh: 'Step Back From The Edge' With Obama-Hitler Comparisons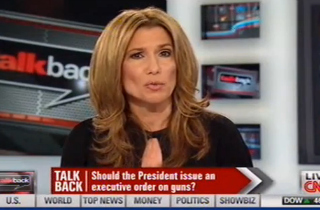 During the "Talk Back" segment of her CNN program this morning, Carol Costello urged conservatives like Rush Limbaugh and Matt Drudge to "step back from the edge" with their reaction to VP Joe Biden's announcement that the administration may consider issuing an "executive order" on gun control.
The reaction to Biden's announcement, Costello said, was "as if lightning had struck." She cited Limbaugh's on-air proclamation that the executive order "could only be to take guns" and that President Obama should consider what happened to the tyrant King George III when he attempted "similar things" against the American colonists.
She also pointed to the Drudge Report announcing the news by showing of brutal dictators Adolf Hitler and Joseph Stalin.
"Let's step back from the edge, shall we for just a second? And examine what an executive order might really mean," she urged the two conservative personalities.
Costello then pointed to the 1989 example of President George H.W. Bush, after a mass shooting, issuing an executive order banning the shipment of certain assault weapons, unless they were meant for sporting; and the 1998 example of President Bill Clinton using executive order to ban the importation of assault weapons that were modified to meet the sporting exemption.
"It's not likely President Obama would impose a total ban on assault weapons," Costello concluded, "and he simply cannot overturn the Second Amendment. Executive orders are meant to execute existing laws."
Later in the day, Limbaugh hit back, asking Costello and CNN if they would be so dismissive of similar fears if a Republican president was attempting to use executive order to fight abortion.
Watch below, via CNN:
[h/t
RawStory
]
— —
>>
Follow Andrew Kirell (@AndrewKirell) on Twitter
Have a tip we should know? tips@mediaite.com