CNN's Costello to MO Lawmaker: Is It Time for Protesters to 'Step Back' for a Bit?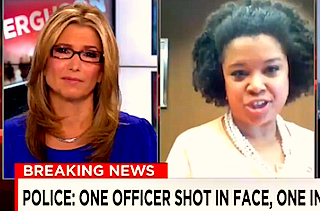 After a press conference from St. Louis Police Chief Jon Belmar on the overnight shootings of two police officers in Ferguson, CNN anchor Carol Costello pressed Missouri State Senator Maria Chapelle-Nadal on whether the protests had taken an ugly turn.
Costello mentioned chalk graffiti found at the protest site stating "pigs kill yourselves."
"One of the things Chief Belmar discussed is an ambush," Chapelle-Nadal said. "And this is the same feeling and language that many of my constituents have felt for a very long time. Under attack, being harassed consistently for years on end. So if someone is drawing something on the ground, that is a non-violent way to express oneself."
"Some people would take that as a threat," Costello said.
"What we have to do is protect people who are feeling hurt on both sides," Chapelle-Nadal replied. "Anyone who is acting violently, they are going to have to come to terms that no one is going to accept them, not even the peaceful protestors."
"It's very difficult to tell who's a peaceful protestor and who's not," Costello objected. "Is it time to step back and don't protest for a week or two, and sit down and talk about it instead? Isn't it safer that way?"
"It's also very difficult to determine who is a legitimate police officer and who's not," Chapelle-Nadal said, noting that there were still incidents in Ferguson of violence by police toward protesters. "Let's be fair here. Yes, we are concerned about police officers who are being attacked. But I'm also concerned about African-Americans who are attacked every single day." Chapelle-Nadal added that protesters needed to resume "self-policing" to root out people "misrepresenting the movement."
CNN then turned to Bernie Kerik, because wouldn't you? Watch the clip below:
[Image via CNN/screengrab]
——
>> Follow Evan McMurry (@evanmcmurry) on Twitter
Have a tip we should know? tips@mediaite.com