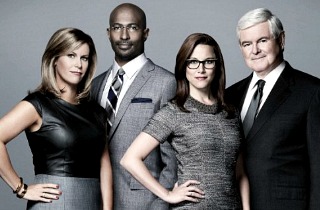 CNN's Crossfire, hosted by Newt Gingrich, Stephanie Cutter, Van Jones, and S.E. Cupp, returns to television tonight. The much-anticipated program's debut is certain to capture the attention of the cable news universe. The hosts recently sat down with reporters and answered their questions about how the new Crossfire will differ from the old, and what the audience can expect from a program hosted primarily by political professionals rather than experienced broadcasters.

"If all this was going to be was a shouting match, I wouldn't have come back and I don't think any of the hosts would agree to come on-board," Gingrich said.
He recalled how he used to appear on Crossfire as a young congressman and hoped to resurrect the feel of that program. Gingrich added that he would like to host the kind of program that the late Bob Novak hosted, "where you actually had to know something, actually had to approach it with guests who knew a lot."
CNN producer Sam Feist said that the new Crossfire will not resemble the old Crossfire in a number of key ways. The first, that the show will no longer be filmed in front of a live audience. Feist said that this directs the hosts and guests to play to the audience and "leads to a conversation that may not be quite as sophisticated." Secondly, he notes that the new iteration of the program will tackle one issue per show as opposed to a variety of issues.
"You will — we will quickly see guests have to move off of their talking points they have another 20 to 30 minutes to continue to dig deeper and deeper and peel off the layers of the onion," Feist added.
"I want to emphasize that yes, we absolutely want to substantive debate, but that's also — the word, 'debate' in there also matters, that people are getting both sides of the issue," said Cutter, responding to a colleague who praised the high level of debate the program will foster. "None of us are known for shying away from a good debate, and I think that people will see that on TV, but the difference is that we'll get beyond the talking points, we'll get the — beyond the one-liners that will try to trip somebody up, we'll try to get to the heart of the matter, the meat of the matter of whatever issue — whatever issue it is that we're discussing."
What has been a disservice to the medium, I think, is are the shows that are playing lip service and just reaffirming the views that they already know their audience has," Cupp observed. "What we want to do is give those opinions because people debate along their friends and family all the time."
"They want to hear sharp opinions on the issues of the day because they're complicated and they're interesting and they're important," she added.
"You know, I think that the American people are in this interesting position," Jones agreed. "They are tired of cheap debate, but they are hungry for deep debate."
He added that the fact that only Cupp had extensive television hosting experience before joining this program demonstrates that CNN is showing quite a bit of courage. He said that hiring political professionals known mainly for their "passionate opinions" shows that the network is interested in fostering productive and enlightening debate rather than a polished but predictable television program.
On Monday night, the debut episode of the new Crossfire premiers at 6:30 ET and will be hosted by Cutter and Gingrich. On Tuesday, Crossfire returns with Cupp and Jones squaring off.
[Photo via CNN ]
— —
> >Follow Noah Rothman (@NoahCRothman) on Twitter
Have a tip we should know? [email protected]