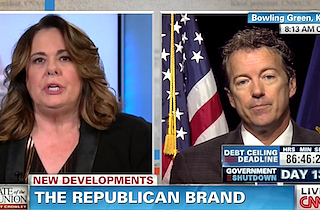 State of the Union host Candy Crowley asked Senator Rand Paul (R-KY) if Senator Ted Cruz (R-TX) was the "de facto head" of the Republican Party—as many saw him as the author of the strategy to tie the defunding of Obamacare to government funding, usurping House Speaker John Boehner's (R-OH) authority—and if he had any intentions of leaving the Republican Party given its internal rifts.
Paul praised the attention Cruz had brought to Obamacare, but when pressed on whether Cruz had unofficially assumed the mantle of leader—Cruz overwhelmingly won yesterday's Values Voter Summit straw poll—he said, "You've got 46 of us, and we all have a little bit of ego. I think most of us think, 'Oh, we're one of the leaders.' You know, we have official leadership. But I don't think of us are ready to say, 'Oh, my fellow Senator, he's my leader, and we follow him off the edge of a cliff.' There is no one leader."
"Do you see yourself, at any point in the future, being anything other than, politically, a member of the Republican Party?" Crowley asked.
RELATED: Glenn Beck Accuses John Boehner of Becoming Harry Reid: 'They're All the Same'
"You're implying a third party or some other party?" Paul said.
"Or if you wanted to become a Democrat," Crowley offered. (This got a good laugh from Paul.) "There are lots of parties out there. Just wonder if you see yourself being anything other than a Republican?"
"No," Paul said. "I've always been a Republican. I'm actually one of those people who is a real lover of the history of the Republican Party. From the days of abolition to the days of civil rights. The Republican Party has a really rich history. In our state, I'm really proud of the fact that the ones who overturned Jim Crow in Kentucky were Republicans fighting against an entirely unified Democrat Party. So I am proud to be Republican. I can't imagine being anything else."
Watch the clip below, via CNN:
[Image via screengrab]
——
>> Follow Evan McMurry (@evanmcmurry) on Twitter
Have a tip we should know? tips@mediaite.com