CNN's Crowley to Sen. Graham: Will You Release Nominees Now That CBS Benghazi Report Was Debunked?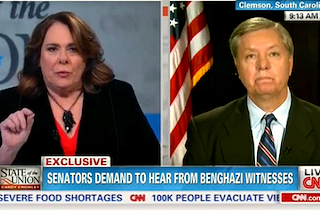 On CNN's State of the Union Sunday morning, host Candy Crowley interrogated Senator Lindsey Graham (R-SC) about whether he would continue to place holds on all of the White House's nominees to obtain access to Benghazi survivors, now that the 60 Minutes story that ignited Graham's quest had been recanted.
The CBS report was called into question by Media Matters after it aired, and was initially defended by reporter Lara Logan.
"What spurred your action to block the nominees was the 60 Minutes report," Crowley said. Graham appeared to demur here, but Crowley said, "You did it the day after and you cited it," causing him to concede the point. "Are there other ways to get what you want without threatening the head of the Fed, or the head of Homeland Security?"
Graham said he had met with the State Department to try to gain access to five Benghazi survivors who have not been interviewed by Congress.
"We're trying to work out a bipartisan way to interview these witnesses. Oversight's important. I'm not trying to prosecute a crime, I'm not defending a British contractor," Graham said, in reference to the "witness" on whom the 60 Minutes special was based. "Fourteen months after the attack, we haven't heard from those who survived the attacks. Congress has an independent duty to find out what happened in Benghazi, and that's what I'm after, and I hope we can find a way to get these interviews and release all the holds."
"But right now, your threat to hold up nominees stands?" Crowley asked.
"I released two," Graham said, "with the understanding that were going to have a bipartisan process to interview the survivors."
Watch the full clip below, via CNN:
[Image via screengrab]
——
>> Follow Evan McMurry (@evanmcmurry) on Twitter
Have a tip we should know? tips@mediaite.com