CNN's Cuomo Challenges Earnest on Claim GOP Has No Intention to Work with White House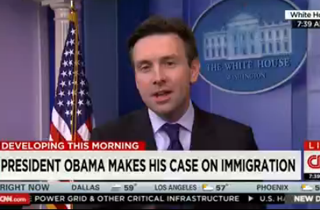 During an appearance on New Day, White House Press Secretary Josh Earnest explained why, exactly, President Barack Obama decided to take executive action on immigration reform and bypass Congress: Congress wasn't going to help in any way.
Host Chris Cuomo challenged Earnest's assertion that this would bring "urgency" towards solving the immigration crisis: "You did the one thing they know will forestall that," he said, referring to the Republican backlash against his plan. "And you could have done it after you let them get their seats in. Let them have their numbers, see if they do it, if they don't, then you could have done this."
"What indication is there that Congress is desperate to work with the administration?" Earnest asked rhetorically. "We've seen for four years that the Republicans in Congress have been engaged in a political strategy to block every single thing that the President wants to advance, even if they are things that they previously supported. There's no indication that Republicans in Congress want to work on this. And that's exactly why the president took a common-sense steps using executive authority that had been exercised by previous presidents, to try to bring accountability to the immigration system."
Well, of course people want accountability, argued Cuomo. "But if you get into this political fighting now, it may wind up forestalling any change for a very long time. They may not even fund it. They may not fund anything because of this."
It's a good thing the Republicans this time around "have no interest in shutting down the government" or defund Homeland Security, noted Earnest.
Watch below via CNN:
[Image via screenshot]
—
>> Follow Tina Nguyen (@Tina_Nguyen) on Twitter
Have a tip we should know? tips@mediaite.com