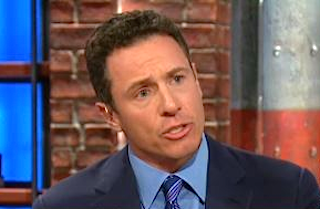 CNN's Chris Cuomo traveled to Ukraine to cover the crisis surrounding the Malaysia Airlines Flight 17 from the ground. In a new interview with Variety's Brian Steinberg about what it's like to report from a war zone and how he thinks his morning show New Day is fairing against MSNBC's Morning Joe.
Cuomo, who is currently attempting to follow the remains of the MH17 victims from Ukraine back to Amsterdam, described what it was like getting stopped at a checkpoint by forces there. "This isn't a cop stopping you. They have loaded AK-47s or Kalashnikovs and they are pointing them at you," he said. "This is a different animal here."
He added that he think it's important to keep focus on the victims who "weren't party to any conflict" that brought the plane down. "I'm not a cowboy and I'm not a soldier," Cuomo said of his own personal safety in the field. "I'm a dad and a husband, and I'm a dad and a husband first."
RELATED: CNN's Chris Cuomo Uses Horrible Pun While Standing Before MH17 Wreckage

Of New Day, which had its one year anniversary last month, Cuomo admitted it "has to grow, it has to get better," but he said it's "a good show that is based on the understanding of taking what matters seriously but not taking ourselves seriously."
On top of that, he said it is "significantly challenging Morning Joe for the mandate of having the smartest show on cable television, and I want that mantle." Note that he does not mention perennial ratings leader Fox & Friends in this equation.
One area in which New Day is starting to see some traction against its MSNBC rival is in the ratings. Last week, the CNN show managed to beat Morning Joe in both the 25-54 demo and total viewers on four out of the five weekday mornings. And three of those shows occurred before news of the downed passenger jet broke.
Cuomo has scored some major interviews over the past few months, from Dennis Rodman to George Zimmerman to Cliven Bundy. His co-host Kate Bolduan recently sat down for an "exclusive" interview with President Barack Obama.
[Photo via screengrab]
— —
>> Follow Matt Wilstein (@TheMattWilstein) on Twitter
Have a tip we should know? tips@mediaite.com