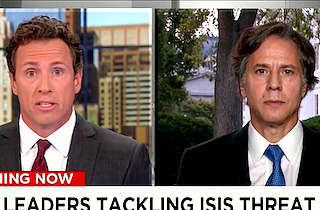 New Day host Chris Cuomo pressed Deputy National Security Advisor Tony Blinken Thursday morning over whether the White House really thought it could defeat ISIS without boots on the ground in Iraq.
"Chris, we're not going to repeat what happened a decade ago," Blinken said. "You don't need to solve this problem by putting 150,000 Americans on the ground and getting them stuck there for a decade."
"But I didn't say 150,000," Cuomo said. "I said any. …It's difficult to understand how [the roughly 1,000 military advisors] are there and there's fighting going on around you and you're not part of it. If you want to be clear, shouldn't the clear truth be Americans may well wind up fighting on that ground again? …How are you going to beat ISIS if you don't have the best forces in the world fighting?"
Blinken replied that the best strategy was to use air strikes to empower Iraqi and Kurdish forces already on the ground, as the U.S. has done several times in the last few weeks.
"We've already seen this in action as recently as a few weeks ago in the north of Iraq, where bearing our air power to Iraqis and Kurdish forces on the ground was very effective in pushing ISIL back in those areas," Blinken said. "But this has to be done in a much more comprehensive way, it requires having an effective Iraqi partner on the ground, it requires building up the moderate Syrian opposition on the Syrian side of the border, and it requires getting other countries in on the deal, But, again, we don't need to be sending tens of thousands or hundreds of thousands of American troops on the ground. We tried that once before. It didn't work out so well."
Watch the clip below, via CNN:
[Image via screengrab]
——
>> Follow Evan McMurry (@evanmcmurry) on Twitter
Have a tip we should know? tips@mediaite.com