CNN's Cuomo Warns Protesters Before Curfew: 'Be Careful, Because You Know How They Are'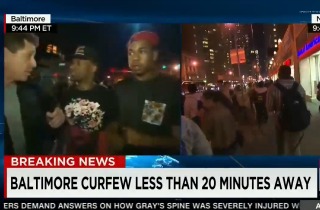 Shortly before Baltimore's 10 p.m. curfew Wednesday evening, CNN's Chris Cuomo was out among the protesters linking arms in the streets as riot police gathered nearby readying for the deadline. In a somewhat unusual moment, Cuomo warned some of the protesters to head home and "be careful" because of the strong potential for police clashes.
"You have people in the public space, the curfew's getting close," he told Anderson Cooper, who was in-studio. "Them being in the street is going to be a problem. I know they're saying go home, they're saying keep the peace, go home. But they're in the streets. They're walking toward the cops. You know walking towards the cops in the middle of the street, they're going to come at you."
After Cuomo said that, one of the arm-linked demonstrators disagreed, telling the reporter, "We're going home, we're going home, we're not going towards them. We're going home. We're just keeping peace."
"Just be careful, 'cause you know how they are…" Cuomo warned the man.
"Yes, sir," the unidentified man replied.
"…if you seem like you're being provocative towards them, you know how things can go," the CNN anchor concluded.
"Oh, definitely," the man responded. "We're going home, sir."
CNN Commentary (a blog unaffiliated with the network) flagged the clip and asked whether this clip shows that reporter Cuomo openly "has an issue" with the Baltimore Police Department.
But one could argue his full quote simply suggests he was leveling with the protester — i.e., "you know how they are" means "you know what police are trained to do." Which, indeed, many protesters understand well.
You can decide for yourself. Watch below, via CNN:
— —
>> Follow Andrew Kirell (@AndrewKirell) on Twitter
Have a tip we should know? tips@mediaite.com