CNN's Dana Bash Ambushes Lawmakers Fleeing Washington Before Sequestration Kicks In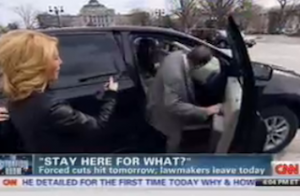 With less than 24 hours to go before the dreaded sequester goes into effect, CNN's Dana Bash headed to Capitol Hill to find out what members of Congress are doing to prevent the massive spending cuts that some economists predict will throw the U.S. back into recession.
"We can now report that those $85 billion in forced spending cuts will kick in by the end of the day tomorrow," Bash began her report. "Why? Because Congress is the only place that has the power to stop them and they are gone."
The CNN congressional correspondent tracked down as many members of the House and Senate as she could as they were "racing down the capitol steps, bolting out of town for a long weekend."
Rep. Tim Griffin (R-AR) delivered a common justification for why he was skipping town, saying that the congressional leadership would remain in Washington to meet with President Obama Friday and if he was needed he was just plane ride away. Other Republicans like Rep. Jim Renacci (R-OH) blamed the president for causing the self-imposed crisis and in the same breath admitted that he voted for it.
Democrats appeared just as resigned, as was the case with Rep. Adam Smith (D-WA) who said he might as well go home for the weekend because "we could stay here and not pass a bill, but that's not any better."
Regarding the planned meeting Friday with Republican leadership and President Obama, Bash reported that she has "not found a source in either party that expects them to do anything to change what is going to happen."
At this point, it's abundantly clear, with most of Washington headed home early in the afternoon on Thursday, the stated goal of sequestration — to get members of Congress to work together on a long-term budget solution — has failed.
Watch video below, via CNN:
—
>> Follow Matt Wilstein (@TheMattWilstein) on Twitter
Have a tip we should know? tips@mediaite.com