CNN's Dana Bash: Friday 'De Facto Deadline' Before Dems 'Defy' Obama, Back GOP's Obamacare Fixes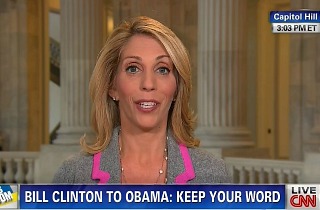 CNN Chief Congressional Correspondent Dana Bash told her network's anchors on Tuesday that the end of the week is the "de facto deadline" at which point the White House needs to have settled on a series of fixes to address the crisis of Americans losing their health coverage. After Friday, Bash reported, House Democrats are going to be backing GOP proposed fixes to the Affordable Care Act against the wishes of President Barack Obama's administration.

"What is clear is that the political pressure and the political desire from Democrats to at least do something is growing by the minute," Bash reported. "What is going to happen in – this week – on Friday is House Republicans are going to put a piece of legislation on the House floor for a vote that will at least, in some way, shape, or form, suggest that people can keep their health care."
"I just talked to a senior congressional Democratic source who said that they believe this is almost a de facto deadline for the White House to come up with a fix," she continued. "Because, if they don't, you're going to see more and more Democrats defy the White House and vote for this Republican bill in the House."
RELATED: Jay Carney Against 'Keep Your Plan' Fixes: 'We See That As Throwing the Baby Out with the Bathwater'
She said that this off-the-record comment is lent support by statements made by House Democratic Whip Rep. Steny Hoyer (D-MD) who declined to attack a Republican proposal that would allow those losing their health plans to keep them.
On Tuesday, White House Press Sec. Jay Carney told reporters the White House is opposed to both Democratic and Republican "keep your plan" proposals. "We see that as throwing the baby out with the bathwater," he said.
Watch the clip below via CNN:
[Photo via screen grab ]
— —
> >Follow Noah Rothman (@NoahCRothman) on Twitter
Have a tip we should know? [email protected]